Our winner of the Teacher of the Term Summer 2017 is HELEN STOKES!!!!! Huge congratulations to Helen who has just completed her first year of teaching with us. Helen truly is a fantastic teacher, and her customers absolutely love her, and she is a wonderful member of the team. Not only did Helen win, but she also received a MASSIVE 26 nominations!
The winning nomination was from Nikki & Charlotte Atkinson who swim at Newhall Farm Private on a Saturday morning in Little Dippers.....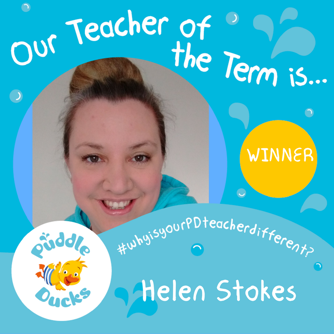 "Helen took over this class mid-term as our teacher Sara was taken ill. My daughter sometimes struggles with change, she had got used to Sara and has had her fair share of 'wobbles' during her swimming lessons so needless to say I was a little nervous. I needn't have worried one bit! Helen quickly got to know all the children in the class. She's a natural with them! Her friendly and bubbly personality really makes a difference, she makes the lessons fun and my daughter has really improved her swimming technique and confidence as a result. Thanks Helen! :)" 
It was chosen by our independent judge, Vicki Smith from NCT Wakefield.….
"Thank you for asking me to select teacher of the term! There were so many nominations which really shows the commitment, dedication and enthusiasm of all the teachers to their classes.
I was particularly impressed with the number of nominations for teacher(s) who have stepped in to cover another class due to absence of their teacher on sick leave (get well soon!).
Change can be so difficult for parents and children and it was so warming to read that they were being put at ease and the teacher was able to adapt to individual needs and strengths so quickly; a sign of an outstanding teacher!"
Thank you to everyone who nominated their teachers, it really does mean a lot to us all, and thank you to Vicki our Independent Judge who had the tough job of choosing the winner! xx
Here are Helen's other nominations.....
Helen has willingly provided cover for the Saturday lessons whilst Helen has been unavailable. Arthur's confidence has improved so much, and Helen was an excellent support to both of us when Arthur moved up to Splashers and I swapped in to be in the pool with him for the first time. She is so positive and encouraging, and we love our Saturday swims as a result. Thanks Helen! Helen Batty with Arthur

My daughter has recently moved groups and since attending with Helen her ability and confidence has grown so much which has made the lessons so much more enjoyable for Alice and myself. Helen has a lovely approach with all the children and adults. Rachel Pollard.

We have 2 children attending Puddle Ducks in the Kickers and Dippers classes at Greenacres School. Both of them have progressed significantly over the past few months, but more importantly really enjoy the classes and don't want to get out of the water! My son, Duncan, who is almost 2 went through a stage when he didn't like the water and screamed in the pool. He now loves swimming and gets excited as soon as we get near the school. Helen is definitely to thank for this and I would nominate her for both my children. Sheila Watson with Orla & Duncan Watson.

Very friendly, knowledgable. Makes the class extra interesting, patient with my daughter who can sometimes kick off in class and want to go play. She manages to focus her attention back to the class.
Very helpful with advice about developing swimming outside of class.
Perfect teacher.  Susan & Grace Cook.

Helen has been fantastic since Mabel first started Splashers, forming lovely bonds with all of the babies and always explaining why we're doing certain activities. Mabel's face always lights up when we see Helen on a Thursday morning! Helen's also been standing in for another teacher at Poppy's Little Dippers classes for the last few months, and Poppy has gone from being so nervous she wouldn't get in, to loving her lessons and becoming so much more confident. She happily blows bubbles, swims with woggles and turns without support, and we couldn't be more grateful to Helen. Helen adapts so well to the different abilities of everyone in the class, and she's made a real difference to both of the girls' Puddle Ducks experience. Thank you so much Helen! Poppy & Mabel Richens

Helen has been fantastic this year with myself tend Cohen. We have tried different lessons but nothing compares to the fun we have at Helen's lessons. She always goes above and beyond. Thank you for all your help and support. Enjoy your summer x Erica & Cohen Cherry

Helen is full of enthusiasm & really encourages Eva. Helen also explains fully what is expected of the parent which I personally find helpful as a not very confident swimmer myself & a cautious mum. Sally & Eva Butterworth

I would like to vote for Helen because we came to a couple of catch up lessons with her. My husband can't swim and isn't great with water he had agreed to get in with Abigail for this catch up (big deal to begin with) he said he loved being in the lesson he felt Helen explained everything so well that he knew exactly what he was doing and instantly felt at ease! He felt happy to go back with her again sometime which is lovely to hear as he never goes anywhere near water.  Lois & Abigail Reynolds

 

Helen took over our lessons after Easter, and it has been a pleasure to see her every week. She is so patient and kind towards my son, and always ensures that any achievements are celebrated with a Puddle Ducks sticker. Claire & Alexander Snoddon

Helen has taken Noah's Kicker's class in Sara's absence this term. She immediately put Noah and I at ease and always makes the classes fun. Whenever Noah is reluctant, she is so positive and reassuring and gets the best out of him. She explains what we're doing and why and is really clear. Noah and I have really warmed to Helen who is always bubbly and enthusiastic. We have loved her lessons this term. Thank you so much for everything this term Helen! Leanne Hartley & Noah Edwards

Helen has been amazing with William since we started our classes. He cried quite a lot in the beginning and she was so reassuring and suggested ideas to help with this. Classes are always fun and she makes an effort with every child in the class. My sister often takes William in and is made to feel welcome too. I would also like to mention Nic who helps poolside. Together they make an amazing team. Thank you, Natalie. Natalie & William Coleclough.

Helen has been teaching both our kids at Newhall whilst Sara is off, helen is fantastic, both children have thrived and really improved due to helen. Ellie asks every weekend to swim with helen and gets so excited when we arrive and he confidence in the pool has rocketed. She adapts the lesson to suit each child's individual needs and abilities and we will really miss her when she finishes. Thank you helen for making both Ellie and Alfie's swimming classes so much fun and for helping them develop and learn so much in the pool, and thank you for the support and advice you give to parents too. Amy with Ellie and Alfie Stones

She makes every lesson enjoyable and fun. Emily's confidence as improved so much since having Helen as her teacher. Jolene Hodgkinson with Emily.

Always friendly and bubbly. Very supportive during lessons. Paige Armitage & Kit Mortimer

Rosie has gained a lot from having Helen as her teacher. Rosie is more confident and enjoys being in the water more she's even given us parents more confidence. Helen has a lot of patience and good advice on how to hold and do the activities with Rosie due to her low muscle tone. We can't thank Helen enough for all the help she has given us. Thankyou Helen x Carla partridge & Rosie Mason

Helen has such a lovely personality in the pool and her positive attitude immediately puts us at ease. Helen always explains the reasons why we do each exercise and she is the reason Jack no longer hates bath time! Stephanie & Jack Spurr

Helen is just so fab with the parents and children alike! She goes out of her way to explain how and why we do the tasks we do, so as a parent you get a good understanding of the water skills the children are learning. This was particularly useful as since returning to work and therefore attending Saturday classes, my husband now goes in the water most weeks instead of me. As he had not attended puddle ducks prior to this, he wasn't confident with our daughter in the water, but that has now changed for the better and both him and Bronnie love the lessons now. But, most of all, Helen makes each class fun and is great with the children. Bronnie Rhodes

Helens enthusiasm never wains. From start to the finish of class she's happy and brings out the best in all the children. Helen's singing is also the best I've heard. Lively, fast and bubbly. I've never heard welcome to Puddle Ducks sang with such gusto - I love it. Thanks Helen. Louise & Henry Hallworth

I currently take a class at newhall farm on a Saturday morning. Helen has shown such care and patients since we started the classes 8 weeks ago. Every week she greets us with a warm and welcoming smile, as well as remembering my little girl by name, such a lovely touch. She works extremely hard to ensure both baby and parent feel at ease in the water by sharing her experience and knowledge with the group. Both my little girl and husband always have an amazing time and this all down to Helen's brilliant class. Caroline & Madalyn Gall 

I would like to nominate helen from Greenacre on a Sunday. She has helped Siena with her confidence and brought her out of her shell. Never wanting to go to anyone, she will go to helen. Chaise has come on leaps and bounds with helen and even attempted her 1st 5 meter swim due to helen giving her the chance. A big thank you from us.  Kim Willis-Wilson

Helen really is a natural teacher. She has great communication skills at just the right level for each class I've seen. My son has really gained confidence lately and follows instruction from Helen which he can struggle with normally. Katie & Zachary Sharpe.