Job Vacancy in Sheffield at Puddle Ducks!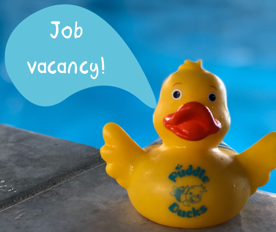 Join our fantastic team of poolside assistants in a role which is fun, rewarding and flexible!
This is primarily a customer service role, as our poolside assistants are often the first person our swimmers will see when they arrive at the pool.
You should be confident, flexible and friendly with a passion for baby & child swimming. You will be working in a swimming pool environment with babies, young children and their parents / carers. You will also work closely with the Puddle Ducks teachers to ensure a safe, fun environment for all our customers.
Your role will involve greeting and assisting customers, completing registers, setting up and maintaining swimming equipment.
No previous experience is necessary - just a willingness to be helpful and friendly, and spend your shift smiling.
Full training will be given before starting but you must be willing and available to attend a one day course to gain a lifesaving qualification. There are several dates available for these so please get in touch.
The hours we have available are...
Sunday 12.30 - 3.15pm at Springs Leisure Centre to start on the 1st of March
For more information on any or all of the hours available, or to apply for the role, please contact Faye at wakefield@puddleducks.com