Here we have the story of Leo, a Little Dipper at Newhall Farm Private Pool, and his heart surgery journey with Children's Heart Surgery Fund.
Please take a few moments to read 💙💙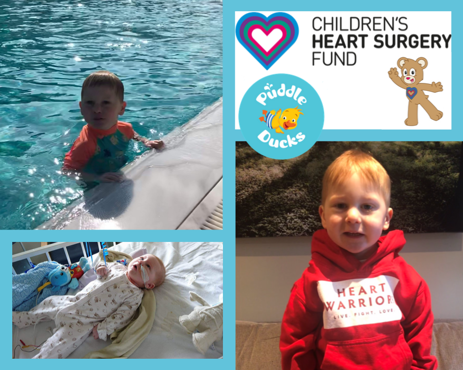 "Leo was born in July 2016.
The plan was he was going to start swimming at 8 week old. But that had to be put on hold.
He was 6 week old when he started with sickness. He was diagnosed with having 3 holes in his heart ASD, VSD and PDA causing his heart to become enlarged.
With other complications he ended up having open heart surgery at 3 months old. A very scary situation to be in letting your baby to go away for 6 hours. The operation was a complete success.
CHSF provided the accommodation so we could stay at the LGI and be there if we were called within minutes. They fund some of the highly technical equipment and staff to be there to support children and parents through it all, including intensive care. As well as the essential toys and fish tank for distraction and calm. The list could go on!
Leo was allowed to start his swimming at 7 months old after his scar and ribs had healed. Swimming is a good source of exercise for him and Puddle Ducks has encouraged his progress so much. His scar is visible but doesn't hold him back and swimming has made him proud of his scar and proud of being in 'the Katie Bear Club'.
We don't know what the future holds for him. But we hope no more operations.
Others aren't as lucky as Leo and they require many more operations and care from CHSF. We thank you so much for all your help. It means so much to Katie Bear and her Team"