When your child moves to Swim Academy they will be asked to wear a swimming hat.
Why do they need a swim hat?
This is often a question asked by parents and a popular myth is that swim hats keep your hair dry, they don't!
We ask our swimmers to wear swim hats because:
- they help teachers to spot your child in the water
- they prevent hair from becoming entangled in pool grates or teachers fingers
- they help to keep the pools clean
- they help stop goggles from slipping
- they stop longer hair from going in your child's eyes
- and whilst they don't generally keep hair dry, they do help to protect your child's hair from the chlorine in poolwater

What sort of hat can my child wear?

Your child will be given a Swim Academy fabric hat by their teacher when they first join Swim Academy, this is theirs to keep. We find children prefer fabric hats to silicone as they pull less on their hair. 

Whilst we love to see our swimmers in Swim Academy hats, they may want to choose a different hat from a different provider and this is absolutely fine. There are a fine array of styles, colours and patterns available. You can even get swim hats specifically for longer hair, afro hair, braids & dreadlocks!

Why don't they wear hats in pyjama week?
If your child was to fall in water they are extremely likely to be fully clothed and without their hats and goggles on. So three times a year, during our pyjama week lessons, we ask our swimmers not to wear their hats, So that should the worst happen and they fall in, they won't panic as they will know what it feels like. 

How do I put on a swim hat?
Here​​​​​​​ is a great video of how to put a swim hat on. This video shows you how to put a swim hat on someone else  and how to put it on yourself (perfect for our older swimmers who go in to changing rooms by themselves.) 

Our top tips are: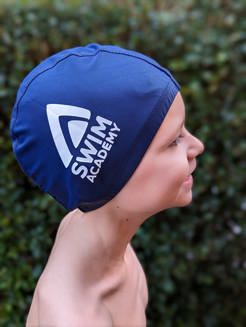 - tuck all hair inside the hat, if there is hair hanging out the bottom there is no point in wearing a hat
-  wet the hair first, it makes it easier to put on and is more likely to stay on
- don't pull the hat down to your child's eye brows as it often stops goggles from working!

I have more questions about swim hats!
If you have any questions about swim hats, and you are a current customer, you can ask in our Puddle's Huddle on Facebook!