Here is the story of Mabel, one or our Dippers at Newhall Farm, and her journey with the Children's Heart Surgery Fund, please take a few minutes to read, and donate if you can to support this fabulous charity in helping more families like Ava's Leo's and Mabel's https://www.justgiving.com/f…/puddle-ducks-wakefield-pj-week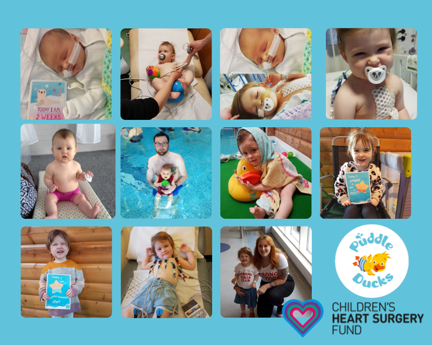 "We found out about Mabels heart condition at our 20 week scan. We were excited to find out the gender - as most first time parents are at the 20 week scan, however the radiographer became concerned and asked for a second opinion from a colleague. Soon after we were told that she had seen an abnormality with the heart and would need to refer us for a specialist scan at LGI as soon as possible. She then told us I was carrying a little girl.
Following on from the scan at the LGI, we were sat in a room with Doctor Barwick and a lovely and supportive Cardiac Nurse Specialist, Marie. They went through all the issues with Mabels heart, a smaller left side, narrowed aorta and a hole between ventricles. They explained that if the left side of her heart didn't start to grow then we would have to consider palliative care after birth and even with surgery her life would be prolonged at best, they gave us our options frankly and honestly but gently, then answered our questions and supported us until we felt ready to leave.
The next few weeks were a complete blur of emotions, but we both agreed we would give our little girl every chance to survive and grow - during this time I emailed Marie with any questions I had and while I was struggling she called me to talk things through and offer support wherever possible.
We had amniocentesis to rule out some conditions which, coupled with her heart issues, would lessen her chance of survival.
We had frequent scans all the way up to 34weeks by which time her little heart had continued to grow, giving her the best chance at surgery being able to give her a normal life.
An induced birth was started at near midnight on weds night and by friday our sleepy little madam was thinking about making an appearance.. The whole 2 days we were waiting for her, the nurses and doctors did everything possible to keep me and my partner comfortable - even to the extent of trying to silently attach a heartbeat monitor to my stomach without waking us when we'd somehow managed to doze off in a single hospital bed!
Unfortunately by the time she was ready to come out, she had moved into an awkward position and I needed to be taken down to theatre so she could be assisted with forceps. Mabel eventually met us at 10.17pm 17.6.16.
Since I had a spinal block I couldn't hold her but got a kiss and cuddle before she was whisked off to NICU with her Dad close behind.
In the days that followed Mabel was moved quickly to the HDU on ward 51 where we stayed until she had her first open heart surgery at 12 days old.
Mabel was very lucky and was doing much better than expected which meant other more serious cases were given immediate priority, but as this was such an anxious wait for us, the nurses and doctors made sure we were as involved in Mabels care as possible. They taught us what the machines were for and how to change her with so many wires and tubes attached and even supported and talked me through really tough days. As we were waiting for a surgery date from birth, Mabel was nil by mouth for the first 2 weeks, which was extremely hard to cope with when she clearly wanted milk, but the support staff on the ward helped me to express and store my milk so I had plenty for when she needed it.
Both of Mabels operations were carried out by Mr Osama Jaber, who talked us through everything he would be doing and the alternative routes he would go if things were to be more complicated once in surgery. Luckily everything went to plan and he was able to use a patch to widen the aorta and put a band on the pulmonary artery to restrict blood flow to the lungs, with a view to removing this and closing the hole in the future.
Then after lots of breast feeding, tears (from me), and coaching (from the team on ward 51) we were able to take Mabel home 3 weeks after she was born ❤
Mabel had regular scans both before birth and since with her Consultant Paediatric/Fetal Cardiologist the wonderful Dr Elspeth Brown, who has such a calm and friendly manner that Mabel is always at ease. These showed that the hole in Mabels heart was actually narrowing.
The second surgery came when she was 2 and while Mr Jaber removed the band from her pulmonary artery, he wasnt able to close the hole due to its position. Luckily, due to its narrowing in the years since her first op it is not currently posing any significant risk.
We were so lucky to have gone through this journey at the LGI with the support of CHSF, Mabels heart surgerys were the scariest hours of our lives and we were supported non stop through the whole experience.
The teddy Mabel was given after her surgery is the one toy she is never without - and believe me, she is fickle! It reminds us how brave she is and how lucky to have had such an amazing team caring for her.
Since her rocky start, Mabel has gone from strength to strength, absolutely running rings around pretty much everyone! From a little girl who hated baths, to a 6 month old who evacuated a puddle ducks pool after 'a little accident' (!) to a 3 year old who is begging me to let her put her face in the water 'do superhero arms' and spin around 5 times underwater, usually while her teacher is trying to speak (sorry Steph!)
She adores her swimming lessons and I am so glad we can do something we love while raising money for an organisation who helped us through the most difficult times of our lives"
Thank you so much for sharing your story with us and we are so happy that Mabel is loving her Puddle Ducks journey ❤️❤️