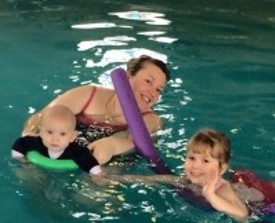 Helen is also joining our team as a Puddle Ducks Baby & Pre-school swimming teacher this term. Helen has been a customer with us for many years now, and I can clearly remember teaching her and her baby Imogen in their first Floaties class :-).  Helen is Puddle Ducks through and through, and I am so pleased she will be joining us a teacher now as well as a customer.  Helen has so far gained her STA Baby & Pre-school teaching certificate and lifesaving qualification, and is now on the next part of her journey, to learn the Puddle Ducks way.  That's the Puddle Ducks difference!
Here is a little bit about Helen……
"I have been a Puddle Ducks mummy for nearly 6 years. My daughter has been a very nervous swimmer and my son is the total opposite who can't get enough of jumping in, so it is fair to say I have experienced every kind of emotion with our swimming lessons. But in both cases I have loved how Puddle Ducks adapts to suit the child and focusses on progressing each individually, tailoring the experience to make it fun and enjoyable but with an emphasis on safety around water.
I have always had my eye on becoming a Baby & Pre-school swimming teacher with Puddle Ducks and I am so excited to finally get the chance to train. I am really looking forward to getting my own classes and helping children gain knowledge, skills & confidence in the water"
You may get to meet Helen in some of your classes now whilst she gains experience co-teaching with another teacher x