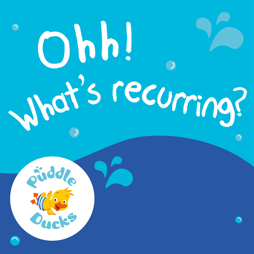 Recurring payments are the easiest way to pay for your Puddle Ducks classes!
It's quick, safe, convenient and ensures that you will never lose your space by forgetting to re-book.
Simply log in to your "My Puddle Ducks" account - if your classes have already ended or you're a new customer you will need to make a payment for your next block of 8 lessons. Once payment has been made, click "Sign up for recurring payments" on the right hand side of the screen so all your future payments will be taken care of automatically.
This means that you will never need worry about your child losing their place, and don't worry when if you need to switch classes or move to the next programme we'll take care of it.