HELEN
She always makes everyone feel welcome and has helped our son grow in confidence
Helen & Duncan McLeavy
Helen has supported me and woody for a while now. We love her and her enthusiasm in every lesson. She is super attentive and knows woody well.
Thank you Helen
Grace Talbot with Elwood
She's very patient and Alfie loves her
Katy Siddle with Alfie
Austin is always a giddy kipper at swimming and Helen manages him (us both) well and gives him the support and attention that he needs. She's kind and attentive.
Liz & Austin Norbury
She takes her time, fully engages with the children and recently I've noticed she seems more relaxed within the pools.
Kayleigh Shaw with Ernie
Helen is just amazing with Oliver. She gives him so much confidence and gives brilliant feedback to help him improve. Oliver adores Helen and his love of swimming definitely comes from having her as his teacher. In Oliver's words 'I love her because she is good at teaching me'.
Hannah & Oliver Smith
Reeva has been attending classes with Helen from the age of 8 weeks old and she is now nearly 4. During this time, Helen has been able to help Reeva with water confidence. Reeva has loved her classes and enjoys it when Helen lets her Jump in. Helen is great with the children and always puts them at ease. Helen really deserves star teacher.
Rachel Watts with Reeva
Cecily loves her swimming lessons. Helen's wonderfully calm, patient and reassuring. Cecily has regained so much confidence after missing lessons due to a perforated ear-drum and lockdown and that's all down to Helen.
Lee Allott with Cecily
Helen has encouraged and supported Penny every lesson. She is really patient with each of the swimmers and adapts to their ability accordingly. Penny loves swimming with Helen - it is the highlight of her week!
Nicky & Penelope Clarkson
After lockdown, Oscar was not very confident and quite shy around new people (even though he had been swimming with Helen previously). In the first lesson he wouldn't even look at Helen and wouldn't the water. Helen was really patient with him and still found ways to involve him. It only took a few lessons to get him in the water and his confidence has kept on growing. He loves Helen and is always excited to see her at swimming. She was one of the first adults outside of our family that he really bonded with.
Nicky & Oscar Clarkson
Helen is fabulous with Nate and the other babies. She always has a huge smile on her face and explains things clearly. Everything is done at the pace of the babies/adults so there is no pressure. Nate loves his time in the water
Nicky  & Nathaniel Clarkson
Helen always makes every child feel special and pay attention to every single one. When we first arrived I was nervous and anxious not knowing what to expect, Helen made us feel welcome and helped every step of the way and still does. She makes class fun which is what's keeps our Freddie alert. She's always there to help and support and always answers your questions. We've had a few teachers in the year we've been going but by far Helen is outstanding in what she does. She was definitely made for this.
Kaye Anderson with Freddie
I would love to nominate Helen as our star teacher please. My daughter, Rose, is only 15months old, but thanks to Helen, she has got so much confidence in the water. Helen's lessons are so fantastic that Rose develops every single week! Helen is encouraging, friendly and just an all round amazing teacher. She makes time to explain things properly and always ensures that there is enough time to complete each activity. She also supports us parents to have confidence with our children too.
I couldn't wish for a better swimming teacher; I can't wait to see what Rose will achieve next thanks to Helen's skills.
Kate & Rose Mitchell
Helen is just a star at what she does 😊 makes everybody feel relaxed and great with the little ones.
Lisa Gilbert with Edie
Helen is a fantastic teacher! The children absolutely love her! She makes everyone feel welcome and as I am a nervous mum when it comes to my daughter in water I find Helen so very supportive! Helen is the reason we still attend Puddle Ducks!!
Emma Rees-Johns with Peggy-Louise
Helen is always so friendly and patient with my daughter. She offers brilliant advice and always makes the lessons fun and engaging.
Emma Burton with Millie
Helen is knowledgeable, brilliant with Livvy, adaptable and always so positive and happy.
Robyn & Olivia Bryan
PAULA
Paula makes every lesson fun and she constantly pushes Michael to do the best he can each session. He looks forward to each lesson with her which is what makes me happy to bring him.
Hannah & Michael Groom
Paula is just great! She knows Tilly and all of the babies really well. She remembers what they can do (and like to do) from week to week. When the adults bringing the babies change, she's great at making sure they know what they should be doing. She also has all the little tricks to help get Tilly in the water when she's not so keen on jumping in.
Josh Gudgeon with Tilly
Great teacher and supports us very well, even when Daddy does things incorrectly always helps !
Allan & Jacob Laud
Only had 2 lessons so far but she has made both me and my son so comfortable and already his confidence has come on in leaps and bounds, now when we get a bath he insists on doing kicks and bubbles 🤣
Rebecca Whiteley with Jacob
VERITY
Verity is amazing at spotting the needs of all the children, even though they can change weekly or even during the lesson in Hazel's case! She really knows how to get the best out of Hazel no matter what mood she is in and we love learning with Verity. Hazel is always so excited to come swimming and likes to make Verity proud of her. Thanks so much for everything.
Ros & Hazel Knight
Scarlett was in another swim school providers lessons first, and I started swimming at the health club. I watched Puddle Ducks classes and was amazed how good the teachers are, so quickly swapped Scarlett to puddle ducks. Verity is just so lovely with all the children and parents, she is always there and willing to help. Scarletts swimming has progressed no end and Scarlett loves her lessons. I honestly watch in admiration of her teaching technique and it's a pleasure to watch her teach.
Trudy Lyons with Scarlett
 Verity helps me understand what I need to do. I struggle when I get water in my ears & can't hear very well. Verity always knows what shape to make to help me do it right. Verity is also funny, I sometimes swallow the water from laughing & I just love her. (written by Reuben age 7)
Marie Zyke with Reuben
Verity goes above and beyond every lesson trying to get Oscar to become more water confident. He is a shy boy and doesn't speak but out of the water he speaks about his love of Verity. This shows that she makes such a lasting impression for him, he's desperate to come out of his shell and speak! Verity also covers Isaac's lessons and again how child focused she is, is just absolutely brilliant and such a strong quality to have. Verity you are amazing!!
Laura Mason with Oscar & Isaac
EMMA
We have really enjoyed classes with Emma, she is patient and explains everything well to Harry.
Lesley & Harry Wood
We've been swimming with Emma for 14 lessons and she's been so helpful and personable and really makes the effort to speak to you each week. She remembers your baby's name and praises them and is really helpful if you have any queries. Nothing is ever too much to ask. We've now switched to a pool closer to us and I'll definitely miss Emma as our teacher!
Rebecca & Ben Smith
Edith swam 10m in her third lesson back after 2 years away from Swim Academy. In Emma's class it's been as though she's never been away! Thanks Emma 😊
Emma  & Edith Nicholls
Emma is an amazing teacher! She always has a smile on her face and is so enthusiastic every lesson.
I have a massive fear of water, that's why I wanted I enrolled my daughter at an early age so she didn't end up like me. Emma is aware of my anxiety, she always supports me in the water especially with tasks I'm not comfortable with. Emma has not only build my daughters confidence in the water, but also mine!
Tara & Róisín Wigglesworth
Emma has been a brilliant teacher since we joined her class last year. Not only has she encouraged and celebrated the positive moments, she's supported and normalised the negative.
We have had a long period of difficulty and Emma is the reason I return each week when it would feel easier to give up. She continues to motivate me to put all my effort in for the whole 30 minutes each week in order to support Finley to engage.
Emma is an absolute credit to Puddle Ducks and instills confidence in the whole group.
Lucy Bartels with Finley
Emma is wonderful. She's always happy to see us and when Gabriel had hearing loss she was so supportive of both myself and Gabriel. We love you Emma!
Lois & Gabriel Jowett
Emma is a fantastic teacher, she always goes out of her way to make sure the children are having fun whilst learning.
Shaunna & Henry Senior
Emma goes above & beyond in her classes. If your child isn't having a good day she will always check they are ok. What we like is she adapts activities to ability or to mood! She is always so friendly & we both look forward to lessons every week.
Rebecca & Emily Caves
Lessons are so fun, Emma keeps a good pace and makes use feel at ease ! Singing is always in tune too.
Vicki with Verity & Zach
JULIA
Amazing, calm, joyous, friend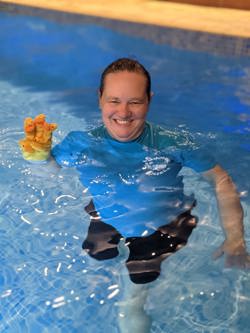 ly, welcoming. Really goes out of her way. Words are not enough to describe how good she is and amaraah loves going swimming with julia and our amazing poolside assistant too!!!
Athia Manawar with Amaraah
Julia is simply AMAZING!! She makes every swimming lesson fun, exciting, engaging and challenging with lots of support!
Right from the first lesson she ensures she learns the children's names and speaks to them rather than at them. She makes parents feel at ease too even if the child isn't loving the water, or that Daddy only comes once in a Blue Moon.
In the words of my little girl, Julia is happy and amazing, oh yeah!!!!
Carly & Charlotte Hannard
Julia knows all of the children in the group by name and makes them feel comfortable by speaking to the children as well as the adults. She makes the children laugh and feel comfortable during the lessons. If a child is not wanting to take part, she will often set the rest of the group off with an activity and go to see if she is able to help in any way. She is a delight to have as a teacher for our so - he always says "swim with Julia" rather than puddle ducks!
Dannielle & James Yaw
STEPH
Steph all round is lovely and so friendly. Margot absolutely loves Steph, all she ever wants is for Steph to take her from me in the pool to do the big splashes but never wants to come back to me! The confidence Margot has got since being in Kickers and with Steph absolutely amazes me.
Chloe & Margot Parkinson
Thomas restarted 6 weeks ago. Steph has been so patient and has help us adapt a routine to get Thomas more comfortable in the pool environment and ease his anxieties. This had included a discussion about changing classes, getting him in the pool early, passing him his equipment first, letting him have a toy for the full session etc. Its been lovely to see Thomas doing the class for the last two weeks which he now enjoys and interacting with his teacher.
Helena & Thomas Hewlett
RACHEL
Rachel is always so friendly and helpful. Ivy loves going swimming because Rachel makes her feel so relaxed and welcome. She's learned so much since starting at Puddle Ducks and her confidence has grown loads!!
Tammy Duty with Ivy
PAULA & HELEN
Helen and Paula make lessons so enjoyable. Matilda rushes to every lesson with a smile on her face. Having observed a class they are the great balance between no-nonsense and kind. They also work as a great team.

I've been really impressed by how respectful (but gently encouraging) they are when Matilda isn't keen to do something. As a result she's built great trust and is progressing really well.
Thank you both for making swimming such a positive experience.
Elizabeth & Matilda Iles