Thank you so much to everyone who took the time to nominate their teacher for this Award. Everytime this time comes around, I cannot wait to read the wonderful nominations and reading about our swimmers journey's.   A massive well done to all of my teachers, I am super proud of them and the impact they have on the families who swim with us.
VERITY - Spring 2020 Award Winner

Lily says " because she is very fun and helpful". Verity (and all the teachers) are very patient! Verity is great at getting the kids to hear her from poolside!!! she Encourages the kids to have a go even when they are unsure. I am still so grateful that on Lily's first day in the new pool she took time out at the end of a lesson (when she should have been going home) to walk Lily around the pool to show her it wasn't anything to be scared of. Jane & Lily Teasdel
Verity is an amazing teacher and she has so much patience with each child. She's very caring and takes time to interact with each child. Allanah loves swimming and asks if she's going to Puddleducks at least twice a day! Allanah's got so much confidence thanks to both Verity and Helen! Dawn the poolside assistant is lovely too and Allanah loves her! Samira Smithson & Allanah Grace Burns
Verity is amazing at what she does and manages to get Matthew through his wobbles and gets his confidence back every time. Matthew really trusts her which is so important. Rebecca & Matthew Hey
We love our swimming lessons with Verity. Verity makes the lessons fun, exciting and helps Jemimah get the most out of the lesson. Verity's experience and knowledge of how to help develop a child's swimming has helped Jemimah flourish recently as she has started to regain her confidence in the water. Jemimah looks forward to Dippers each week and seeing Verity. Verity is a wonderful teacher and really does make a difference to the team! Thank you. Rebecca & Jemimah Law
Verity has taught Stanley for a few years now and has helped us through times when Stanley wasn't enjoying swimming. Verity has really encouraged him and made him feel really comfortable in the water. Stanley also wanted to nominate Verity because he says that she's a super swimmer and a very good pencil!! Chloe & Stanley Barraclough
Alex started with Verity in November 2019. Alex was nervous and has been upset before a few of his lessons. We had a chat with Verity who reassured him she wouldn't ask him to do anything he wasn't comfortable with. He has been so keen to get to his lessons since, as he completely trusts Verity. Claire & Alex Snoddon
Ava continues to be anxious but has exceeded expectations due to verity's kindness and patience. This is something I have noticed when able to observe Verity. She displays patience and kindness but above all else calmness. She is completely unflappable with some children who seem to have problems concentrating and does not allow this to impact on the other children especially ones who are anxious.
Ava absolutely adores Verity and I truest believe if it wasn't for the bond she has created with Ava we would not be continuing with classes as Ava was distraught about coming after the summer holidays. Today I was able to give her a kiss poolside at DW and she walked off to Verity without me having to hold her hand as she was so excited to see her to tell her something. This is a testament to Verity's personality and teaching ability. Relieves a lot of stress from my mind. Andrea Stanger with Ava Rajfield
Bella hasn't been in her swim Academy class long but the transition from puddle duck classes to swim Academy have been seamless due to Verity. From her very first lesson to now Verity has made sure Bells feels confident to swim without me in the pool as well as ensure she is making progress. Bells loves going swimming and learning new things. Sarah Wilkinson & Bella
HELEN
Helen has been fantastic. My daughter moved to Helens class after the pool in Sheffied closed. In about 8 lessons with Helen her confidence and ability in the water has skyrocketed. From being scared to put her face in the water, she's choosing to do so at any opportune time. Helen's calm, structured and fun approach to the lessons and her kindness towards the children have done wonders for my daughter. In our view, Helen is a star! Tom & Delphi Bernard
She's amazing with Reeva puts her at ease in the water and takes time to explain things. Rachel & Reeva Watts
She's so understanding and listens to the children. Very patient and good at helping the children who are nervous. Very clear instructions that they understand. Caroline with Harry & George Duffitt
Helen is absolutely great, she is super enthusiastic and is really good at adapting the lessons to suit Dylan's sometimes grumpy moods! He really enjoys his swimming lessons, especially any activity involving ducks! Emma & Dylan Covington
Because she is simply the best and Elijahs loves his swimming lesson. He gets so excited at swim time. Amanda & Elijah Earnshaw
Helen is such a responsive teacher, she understands the differing moods of the children and adjusts her lessons to make sure they still get the most out of the lesson. Ros & Hazel Knight
Helen is a fabulous teacher, very patient and supportive! Sarah Sheridan with Ava
Evie has really come on since she has started with Helen, she recently did her 5m. Helen is fun and encouraging and really great with the kids! We have had a few a different puddle ducks teachers over the last few years and Helen definitely stands out! Victoria Orrill & Evie Colver
Helen is fantastic! She teaches both of my children in Puddle Ducks and Swim Academy. She has built a great relationship with them both and they have gone from strength to strength under her instruction. James recently achieved his 10 metres and Rose enjoys her lessons so much she pretends to be Helen and teaches her dolls to swim. We recently trialled James at the swimming academy at his school which has great recommendations, is cheaper and significantly more convenient for our family. However, we just couldn't make the move because the quality of Helen's teaching is simply unbeatable. Thank you, Helen. Sarah with James & Rose Swinden
Helen is an amazing teacher she has only been with Helen for a short period of time but she has brought Isla on so much and goes out of her way to make Isla feel special. Richard & Isla Skidmore
PAULA
Geeta has been having lessons a while now and throughout her time we have also visited other pool and teachers and I have to say I have found paula to be kind patient and a great teacher Geeta Rathi & Claire Taylor.
Paula is a fantastic teacher who always goes out of her way to make sure we stay involved in her lessons even when Ava is having an off day. Sarah & Avalyn Mellor
Paula is a fantastic teacher she hass made Lucy feel very welcome into the group since she started in september. She's brilliant at explaining what to do in the class and comes across very professional. Could not ask for a better teacher . Keep up the fantastic work Paula x Gemma & Lucy Wright
Paula continues to be fantastic- Anna has now moved up to Dippers and I am so proud of her. Anna's water confidence and the progress she has made over the last few weeks are all down to Paulas lessons and her ability to make learning such for for the little ones. Thank you Paula. Nichola & Anna McDermott
Paula is a great teacher and Dan really enjoys her lessons. He has made heaps of progress & is becoming a confident little boy in the water. Thank you Paula for all of your patience and for making his lessons so much fun. James & Daniel McDermott
Paula is always very patient and good with molly. My little girl has gone from refusing to use woggles to independently being able to swim on them and is now beginning to try swimming her own. Paula supports her well giving in to her demands of particular coloured woggles each lesson and gives her lots of encouragement. Molly always loves a swim day and talks constantly all week about paula and swimming on the woggles with such excitement. Helen Bingham with Molly
Reuben loves his swimming lessons with Paula. His water confidence is fantastic since starting lessons with Paula. She always makes the lessons so much fun that the kids don't even realise all the water skills they are learning. Paula is really good at pushing the kids at their own pace so they improve each week whilst helping the new children join in and feel welcome in the classes. Reuben can't leave the water without finding Dory the fish in the box of toys to squirt Paula with! Lucy with Reuben Julienne
Karson has been swimming with Paula from 6 months old, he loves his swimming lessons and his confidence is growing more each week, Paula has been patient with Karson and encouraged him to participate and learn new skills. Natalie & Karon French
EMMA
Brilliant teacher. Knows all her children's names,  knows their characteristics and made us feel welcome and confident in the water x Dharmita & Iris Mistry
Emma is so lovely and great with my son who really enjoys her lessons. Brilliant teacher! Rachel Parker with Edward Hall
Harry loves Emma and his confidence in the pool and interacting with the other children has come on leaps and bounds since having Emma as his teacher. When he is in the bath now always practices what Emma has taught him and says that he wants to show her. Couldn't recommend her enough to any parent. She just has pure passion for teaching all her students and clearly loves her job, which is hard to come by these days. Richard and Harry Lee- Nelson
Remembers Teddy's dislikes and likes each week. Makes a fuss of each child. Teddy has come in leaps and bounds working with Emma. Kayleigh & Edward Pilkington
She's fantastic! My son loves swimming and enjoys the lessons that Emma takes. She interacts with each individual child and assesses their needs or requirements to ensure they enjoy and get the most out of each lesson. Sarah Sharp-Allison & Ferrand
Emma is Superb she is very friendly and welcoming and always make an effort to communicate on an Individual basis with each child even when the class is busy, Emma makes the class fun and enjoyable and I believe Noah has come on leaps and bounds in his dippers class down to Emma's enthusiasm. Andrea Knipe with Noah Hurst
She's amazing!! So down to earth and on the kids level, makes them all laugh each week and has soooo much patience!!
Lucea really enjoys going on a Friday morning at the Village and has come on leaps and bounds recently... all down to Emma giving her the confidence and support! She's more than teacher, she's a friend too x Joanne Shackleton & Lucea
Always has a smile on her face. Is exactly the same every week with all the children, so enthusiastic and funny. A real credit to the team and an excellent teacher to all the children. Victoria & Charlotte Birks
It's been nearly a year since our daughter first joined Emma's splashers class and it is amazing to see how her confidence not only in the water but also in her everyday life has grown, which I feel Emma has significantly contributed to. Always smiling and positive about every member of the group, Emma really understands who each of her pupils are and has built a relationship with every single one of them. Sophie loves the water and watching her now in kickers with her daddy; laughing, singing, kicking, jumping, splashing and showing improvement every lesson is the highlight of our week. Again, this would not be possible without Emma's enthusiasm. Thank you xxx. Hayley & Sophie Dickinson
Emma has been very welcoming. James was unsure if he even wanted to go to swimming lessons. He now laughs his way through the classes and is confident inthe water and only started after Christmas. She challenges him enough to keep him invested whilst building his confidence. He has been so pleased and proud of hi swimming stickers when he has done really well at trying new things. Thank you. Sarah & James.
STEPH
She has been very supportive when Michael has been stubborn about what he wants to do and when he wants to do it. Michael loves her class, she has taught us both so much and is very patient and helpful x Hannah & Michael Groom
She is a brilliant teacher, me and ella love our sessions with her Jade Eddy & Ella Bale
Frankie has been in Steph's class since his first week and we have been attending for 9 months now. Every week Steph greets Frankie with a warm loving smile and Frankie's face always lights up when he sees her. Steph has made Frankie's first experience of water enjoyable and Frankie loves swimming and confidence grows every week. Steph is also caring in that she takes an interest in what Frankie has been up to out of swimming lessons too. Callum & Frankie Martin Howse
We love attending Steph's classes each week. She really works hard to engage with each child, supports as needed and has a lot of patience. Harry really enjoys his lessons and is water confidence is great. Thank you! Lesley & Harry Wood
HEATHER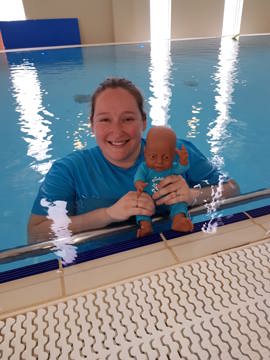 Always happy.. Positive attitude goes a long way. Andrew & Elliott Ingram
I would like to nominate Heather as from the minute she started as a new teacher at Newhall farm she has really helped Scarlett develop even further with her swimming. She is very clear on her instructions of how to do new moves which some I have struggled with in the past and I have found it easier under Heathers instruction. Scarlett has also instantly warmed to Heather where normally it can take about 3 classes and when we had a bad class where Scarlett was tired and upset Heather made it so much easier for me to stay in the class by helping keep Scarlett happy through lending her Evangeline and keeping the class going xx Emma & Scarlett Westerman
Heather is really good with all the kids, puts them all at ease but is also assertive when required. We've had a few teachers but Heather is by far the best. Sarah Holden & Isabelle Parkinson.
Kole loves Heather she always makes him laugh, I think he would rather swim with Heather than me haha, he's always trying to catch her attention so lovely to see them grow and trust new people, thank you Heather. Kirstie & Kole Dickens
MARIE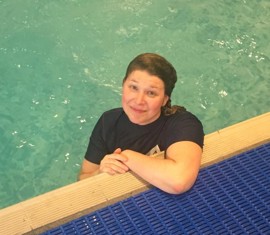 Marie is a fabulous teacher. She is friendly, patient, fun and explains what the swimmers need to do in their lessons clearly and for each child's ability. Marie has been teaching Elijah for a while and he loves his swimming lessons with her. She is an amazing teacher and fantastic asset to the Swim Academy! Thank you Marie! Rebecca & Elijah Law