Wow we had over 40 nominations in for our Star Teacher Award Spring 2019!! Thank you so much to everyone who took the time to nominate their teacher. I absolutely love reading all the nominations and their swimmers' journeys. Well done to all of my teachers, I am super proud of them and the impact they have on the families who swim with us.
VERITY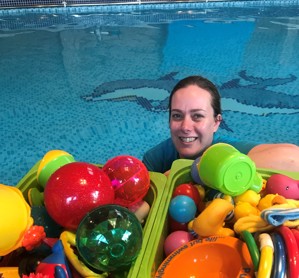 "For loving, encouraging, supporting and pushing Erin every week. She is so confident in the water and that's all thanks to you. You are more than a teacher to Erin, you are her pool mummy x"
Jamie with Erin Reily
"Verity always makes lessons fun whilst really watching and supporting us. She never gets frustrated when my cheeky, strong-willed monkey decides she just wants to sing and splash instead of following instructions! She encourages confidence and Scarlett has absolutely blossomed under her care. It's our favourite time of the week! It's so obvious that she loves working with the kids and is really suited to her role!"
Elizabeth Egan with Scarlett
"Verity is a great teacher and my son is improving and gaining more confidence each week"
Rebecca Hey with Matthew
"Verity continues to help and encourage Ava. Ava is a shy child who doesn't like water in her face. Verity has managed to encourage Ava to get up to her nose in the water. Ava loves her lessons with Verity and is animated and comfortable despite not liking water. She continues to grow with the help of Verity. Verity is very much part of Ava's life as far as Ava is concerned. Ava even thinks Verity has a pool"
Andrea Stanger with Ava
"We would like to nominate Verity as we absolutely love coming to her floaties class every week. Rosalie has come on in leaps and bounds and thanks to Verity we have both learnt to be confident in the water! It is amazing watching Rosalie learn new things"
Natalie Ellam with Rosalie
HELEN - WINNER SPRING 2019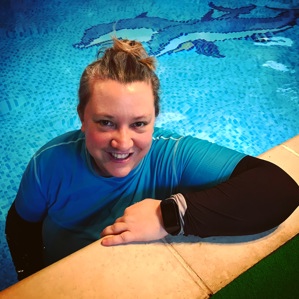 "Every week since Noah was 7 weeks old we have been swimming with Helen. Noah is now 20 months and in Kickers and he loves it. He is so confident in the water. Helen is great as she differentiates the activities for Noah, demonstrating her knowledge of both her skill and my son. Helen often makes certain parts of the lesson more difficult for Noah, challenging him but he laughs his way through the lessons and shouts 'moooooore' for the parts he really loves. (The super splashy bits!!) He is now showing the skills he has learnt with Helen at swimming, in the bath and in day to day life! (He blows bubbles in the bath, dunks his head, jumps off furniture shouting 'jump'...) We are so thankful for Helen's patience and talent in teaching our son to swim!"
Natalie Kirk with Noah.
"Helen has a great relationship with each of the children and carers in the class. She is able to accommodate different abilities and confidence levels within her group and ensures each child progresses to their maximum ability. Her classes are upbeat and great fun. We love Helen!"
Helen Slater with Benedict
"Helen is always amazing - very knowledgeable and always ready with suggestions of baby steps to allow Lewis to build up to a certain activity. Go Helen!"
Louise Totty with Lewis
"We never take for granted the expertise in the pool - Helen explains what to do and the benefits so clearly. There are babies and toddlers of all different ages but she makes small tweaks to make sure all are supported or challenged. Thank you!"
Samantha Proud with Finley
"We'd like to nominate Helen because, quite simply, she's awesome! Helen has supported James through so many crises of confidence since she started teaching him in late 2017. In September his confidence dipped so low that we almost quit swimming. It was totally out of the blue but he was miserable and he didn't want to be in the water at all. It would have been a real shame to end his journey as he's been with Puddle Ducks since he was 14 weeks old. Helen to the rescue! She worked with us to return back to basics and support James by doing activities that he enjoyed and felt more confident with. Helen and Nic lavished James with praise (and magic stickers) helping him to find his confidence and love of swimming again. We're so proud especially as James has now progressed to Swim Academy with Helen. The only downside is that the lovely Nic is no longer our poolside assistant. Thanks for your hard work and efforts Helen and Nic."
Sarah Swinden with James
"I already knew why I loved swimming with helen, However given Abigail knows her own mind and can tell me herself I asked her "why do you love swimming with helen?"
So in Abigail's own words
"I love helen she's fun"
The progress Abigail has made is fabulous however the way she bounces onto poolside every Sunday suggests that she means that statement wholeheartedly! She does genuinely love her! Helens an amazing teacher and truly deserves to win! Because Abigail says so! Xx"
Lois Reynolds with Abigail
"Helen always works dynamically to assess the individual needs of each child every week and adjusts the activities accordingly. She recognises they change according to numerous external factors. We love that there are familiar activities and new ways of learning in each lesson. Thanks for getting to know our children!"
Ros Knight with Hazel
"Helen is so patient with Kara, she makes every lesson fun and works to Karas pace. Kara is a bit of a talker 😂 and Helen always takes a quick second to listen to her before getting her back on track and focussed. Kara loves her lessons and the transition to swim academy has been fantastic. Kara would really like Helen to win 🏆!"
Joanne Rowe with Kara
"Helen always make the lessons really fun and informative for the parents so we understand why we are doing certain things. Her confidence and knowledge with the children really puts me at ease for my children to progress with their swimming skills."
Caroline Duffitt with Harriet & George
"Every child in Helen's class has blossomed and come on so much in confidence. She is patient and encourages each child to grow at their individual pace.
Harrison didn't want to leave the pool today. Totally different child who entered the pool in a bit of a mood...and left laughing and not wanting to get out!"
Carrie-Anne Newsome with Harrison
"We started our journey with Sara but when I went back to work I had to change days. I sad to leave Sara's class as Erin had really formed a bond with her and was doing so well I didn't want anything to change. This is why I want to nominate Helen as our star teacher, almost immediately Erin took to Helen and for me her clear instructions and explanations for progression made my role easier. Erin is still loving her puddle ducks lessons and it is most efinitely a highlight of my week too. Erin is constantly looking for Helen in class and always has a huge smile for her".
Heather Sweeney with Erin.
"We have only just started Puddle Ducks. Helen made us feel so welcome at the first lesson. She is so encouraging and always mananges to have time with each individual child. P.S. We think it's amazing how she remembers so many children's names!!!"
Lizz Broadbent with Poppy
"Helen is great with my little boy!"
Lesley with Harry
PAULA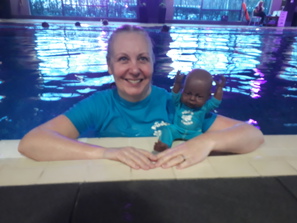 "My daughter was moved up to Dippers recently and the support and encouragement Paula has expressed to her is fantastic.
As a regression can be expected due to the big jump from little dippers to dippers, Paula has worked with Hannah to overcome these. Hannah enjoys getting inthe pool every week and that's down to Paula (especially as there was big changes at the beginning 2019!)
Hannah is progressing so well on dippers thanks to Paula"
Naomi Boyd with Hannah
"Paula makes every class enjoyable and I have watched my little ones confidence grow in the water and seen how far he's come from never have it swimming lessons before. My son told me he loves swimming because it's fun and loves paula too and when you hear that from your child about a teacher that's teaching to swim and stay safe you can't ask for anything more."
Lyndsay Beddoes with Logan
"She's wonderful, very kind, very patient and always seems to give my little girl a warm smile. Anna loves swimming thanks to Paula!"
Nichola Mcdermott with Anna
"Paula is very caring towards all her students and goes an extra mile to understand the child. Identifies areas of weaknesses and directs her teaching to accommodate learning. Krish has improved in his swimming skills since."
Reena Dharamshi with Krish
"Paula is fantastic!! She always knows how to encourage my son when he's being stubborn and grumpy or even when he is being his normal bubbly energetic self! She has patience and is able to support us with next steps when swimming, she's friendly, kind and a real treasure to your company! Thank you Paula! After having to move venues due to work commitments I'm so happy to have you back as Harley's teacher!! X"
Claire Kenyon with Harley
"Endless patience"
Emma Griffiths with Ryhs
"We have just moved into Paula's classes and she is a fantastic teacher. She goes out of her way to make sure you are completing each activity correctly and explains why telling you what you are teaching your child. She is always friendly and happy. Molly loves her class and is always excited to get in the pool."
Helen Bingham with Molly
LOIS
"(I know she won last time BUT) Lois is amazing with my daughter. Nell is "strong willed" and often says no to activities in class. Lois has always suggested other ways Nell can participate so she always gets the best from her lessons. She always has a smile on her face and makes class lots of fun. We would have quit without her encouragement. Thank you Lois"
Sarah Trentham with Nell
"From the first class we had George took to the class and Lois like a duck to water. She remembers everyone's names and when George decides he wants a quick cuddle instead of doing what he should it doesn't phase her and she's always happy for a quick cuddle. She always happy and makes every class fun. I think the fact her class is so full is testament to this!"
Donna Davis with George
"Lois is always willing to listen when James has a problem or is struggling with an exercise. James developed a fear of the deep end and Lois was great. She adapted the exercises so that James was comfortable and doing the exercise without realising.
Lois is always smiling and welcoming when we arrive for lessons. James has had a few teachers now but Lois is the first one that James has really taken to."
Sophie Bradbury with James
"Isla loves swimming. She always has a smile on her face and her legs are always kicking. Lois is very understanding of Isla's illness and is happy to take things at our pace. She always makes a point of speaking to us when we arrive for class and comes across very friendly. Lois has a great teaching style that fun for both parents and children."
Sophie Bradbury with Isla
"She's fun and amazing with the children, very engaging and we really miss her in our splashers class."
Sarah Sharp-Allison with Ferrand
"My daughter has been coming to puddle ducks for about 5 months now, she has been diagnosed with dwarfism and is slightly behind in her motor skills i.e holding her head up. Lois has been absolutely fantastic with Ivy she always thinks about her abilities in the water and if there is an activity that she can't do she always finds an alternative way to help her. She makes classes so fun. Ivy loves her swimming classes! and i love to see her so happy. Lois is the best!"
Keeley Bailey with Ivy
"Lois is super fun to have lessons with! She's helped give us both so much confidence in the water! Plus her random stories are hilarious and make my week!"
Laura Cornish with Zachary
"Lois has been extremely patient with Lydia & instinctively knows how to get the best from her. All the children in the lesson respond so well to Lois' enthusiasm, sense of fun & dedication to teaching swimming."
Vanessa Rose with Lydia
"Lois is absolutely amazing with the children, she makes the lessons fun and jam packed, she explains why we are doing each different part of all the lessons & really does give every single lesson I've been to with Parker 110%. She is a credit to puddle ducks for her professionalism, passion for baby/children swimming & safety & for being fun and fabulous and keeping everybody busy every single second of every lesson! She really is a super star and deserves this every day of the week! GO LOIS!"
Chloe Jones with Parker
"I've nominated Lois before, but I have to nominate her again. Edie adores her and does everything she can to impress during her lessons. Edie is not the most confident swimmer, but Lois always makes her feel happy and safe in the water."
Jessica Hudson with Edie.
"Lois works very hard to make sure the lessons are fun and informative and encouraging for both the children and parents. She is on top of each child's ability and works to get the best out of each even though she has a class full of little ones. Lois is the he best teacher we have had."
Sue Birkett with Naomi
"Although Lois hasn't taught Alexander for very long, she has very quickly go the measure of him! She knows her stuff and knows what makes him tick. He loves going to her Dippers class and is continuing to make good progress. She makes the lessons fun, enjoyable and informative."
Helen Stokes with Alexander
"Sophie has always been happy in the water but she struggles with her confidence. She's also shy around new people and was so clingy when we started lessons at the village. Lois has put a lot of effort in with her and has completely won her trust. She's come on so well with her swimming and thanks to Lois and her encouragement she's now swimming independently and trying things I didn't know she was capable of. Thank you so much!"
Laura Moore with Sophie
TARA
"She's amazing. Always has a smile on her face not only does my little girl love to see her but I look forward to seeing her also.
She should defo win but I'm sure it is hard to pick as all the team are happy and helpful".
Christine Hewit with Erin
"She is new to teaching grace but recognised her skills at swimming, tested her for her 5m on her second lesson and is continually pushing her to do more".
Lucy Sowden with Grace
KIRSTY
"Hollie has been swimming with Puddle Duck's since she was 7 weeks old, the time came when she was to join Swim Academy and be in the pool without a parent. Hollie lost all her confidence, she really struggled to carry out basic tasks in the water that previously she had excelled at. Kirsty has been great in helping Hollie regain her confidence, it took Hollie a while to trust Kirsty but with Kirsty being consistent and very patient, Hollie now has most of her confidence back. I have every confidence that with Kirsty as her teacher Hollie will continue to excel in to a fantastic swimmer!"
Laura Curtis with Hollie
JENNY
"Lily says that Jenny is her favourite teacher. She says she is kind, does fun lessons and has a pretty voice. Lily can have a confidence wobble in lessons especially if she is tired and Jenny has been great in encouraging her to reach her full potential. It was lovely when she finally attained her 10m. Although she likes being at the new pool and it will be better for her, Lily does miss Jenny. (Verity is lovely too and is great at pushing the kids into working harder whilst having fun! It is sad we can't vote for her too!)"
Jane Teasdel with Lily
"Ava has always been very nervous in the water. I was really keen for her to learn to swim especially because her Dad can't swim. Ava has been swimming with Jenny for about a year now and she is streets ahead from where she started. She's had her ups and downs but Jenny has persevered with her. We'll be sad when Jenny leaves Puddle Ducks and we wish her lots of luck and happiness in her new role. Jenny is one of the local teachers that have inspired me to join the puddle ducks team. Xx"
Heather Sweeney with Ava
PAULA & JENNY
"They are so kind, friendly and make the lessons lots of fun and really enjoyable. They make a wonderful team."
Sindy with Gwen Allen