We have a WINNER!!!!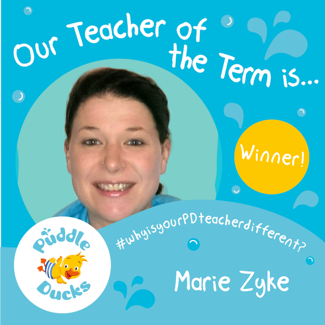 Huge congratulations to our wonderful teacher Marie Zyke who has won our local Teacher of the Term Award for Spring 2017!!!
The winning nomination came in from Samantha & Max Gilbank who swim in Little Dippers at The Village Hotel on a Thursday afternoon......
"Marie is awesome...
When we walked into the pool and Marie was back, Max's face lit up and he threw his arms into the air and yelled, "Yes Mummy, Marie is back! She is really back!"
I truly believe that she is the best and without her, Max wouldn't be where he is now!
As soon as we got home I went online and booked the next set of lessons with the amazing, incredible Marie!
If Marie does not win I would love for you to pass on my gratitude.
Marie, thank you for all that you have done for Max and all that you continue to do for him! From the bottom of my heart I am truly thankful that you are giving Max the wonderful gift of being able to swim and being confident in the water! You are a credit to Puddle Ducks and we love you!"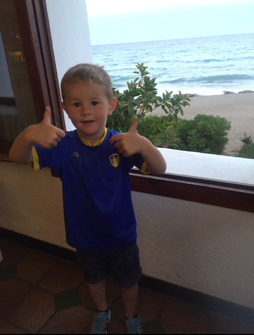 We had so many lovely nominations this term, thank you so much to everyone who took the time to nominate their teacher, you will be able to read all nominations on the website next week. Heather from Wakefield Mumbler had the tough job of picking the winner and here is what Heather said.....
"I have thoroughly enjoyed reading the nominations for teacher of the term. It is great to see how much the teachers at Puddle Ducks mean to the families they work with. I was a difficult decision and there were a few that came close, I particularly liked nominations from parents that had been to a number of different teachers and those that had been recommended to try Puddle Ducks by their friends. However the winning entry stood out from the crowd, in fact it made me cry! I could feel the parent's heartfelt gratitude to their child's teacher. It always good to know you've been missed in your absence and it looks like you most definitely were! Congratulations! "
A big thank you to Samantha & Max and to Heather and a massive well done to Marie and all our other amazing teachers, I am very proud of you all, Faye xx