🎉 We are delighted to announce that our fabulous poolside assistant Catherine
is training with us to become a Puddle Ducks Baby & Pre-School Teacher.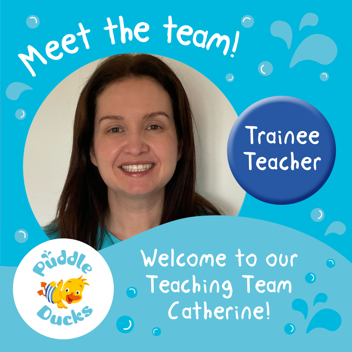 Catherine has completed her STA Award in Aquatic Teaching - Baby & Pre-School Swimming today, whoop whoop! 🤩🌟 Over the coming months you may see Catherine in your lessons with our experienced teachers as she learns the ropes and prepares for her Puddle Ducks courses in November and December.
Here is a little bit about Catherine ...
"My Puddle Ducks journey began almost 11 years ago when my son was only a tiny 8 week old Floatie! Back then I loved attending the weekly sessions with a group of my 'Mum friends'. When my daughter was born 2 years later I started from the beginning all over again!
For 15 years I worked as a primary school teacher but left to spend more time with my family just before lockdown happened (great timing)! When the kids were back at school, I found myself with some spare time on my hands and jumped at the chance to take on the role of poolside assistant with Puddle Ducks. I have not looked back and look forward to the sessions each week, and now I am training to be a teacher!. I love getting to know the children and seeing them progress and develop each week - having fun whilst learning such an important skill"
#puddleducks
#puddleducksdifference
#trainee
#bestjobintheworld
#babyswimming
#toddlerswimming
#swimmingteacher