We have a WINNER!!!
Helen Stokes is our Teacher of the Term for Summer 2018. Helen had 9 lovely nominations but this one was chosen as the winner out of 32 nominations by Emma Chappelow from Sugar Plum Fairy Books.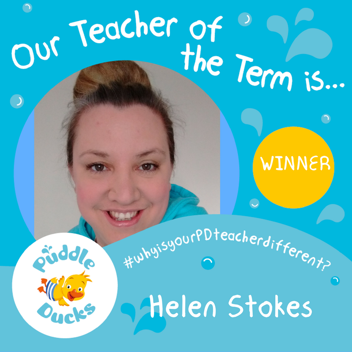 Emma had this to say.."Wow there was so many great nominations, it was so hard to choose just one. 
This one stuck out more for me as the boy had had so many changes which is really difficult at a young age. It's very inspiring that a teacher could change a child's mindset by giving him so much encouragement. A very well done for this teacher. I also sounds like all the other teachers do an amazing job and should all give themselves a pat on the back".
Here is the winning nomination sent in by Sarah & James Swinden who swim at Greenacre School on a Sunday morning.
"When James changed pool, teacher and gained a sister around the same time, he lost all confidence in the water. Once he absolutely refused to go in the pool - we almost gave up! Despite tears and tantrums, we persuaded him to give it another try and Helen has transformed him. With her encouragement, enthusiasm and patience, he is now like a different boy. He always refused to hold children's hands for the welcome song, choosing to cling to a parent instead, and he outright refused to go under water. Thanks to Helen (her trusty sidekick Nic and their stickers), he now holds children's hands while singing the welcome song and, not only does he happily go underwater, he volunteers to do so for demos. We've just got back from our family holiday where it was a joy to swim with James and watch him play confidently in the water. Thank you, Helen!"
Thank you so much Sarah for taking the time to send in this nomination, and to everyone else who nominated their teacher, it really does mean a lot x