Ever wondered what makes Puddle Ducks different to other swim schools?  Read this very honest testimonial from Heather, one of our customers and also an ex-Teacher who has two children swimming with Puddle Ducks ...
"We're Back!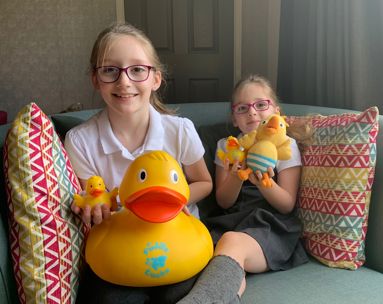 Like so many families when times get tough, we have had to look at where we can make savings. Swimming lessons for me are an absolute essential life skill and would always be the last thing to go. During lockdown I found myself with no income and took on a new job that paid a lot less.  By the time swimming lessons came back my kids had been out of the pool so long, they had lost confidence, and my new job meant that I found it difficult to get them both to their lessons never mind use the Courtesy Class vouchers. I reluctantly made the decision to cancel our Puddle Ducks and Swim Academy Lessons.
We paid for family membership at the council run gyms/ pools and we had a lot of really great value family time. We managed to rebuild their confidence in the water. Still living on a tighter budget I signed them up swimming lessons with a cheaper provider.  At first both of my girls were in a class where I couldn't see what they were doing but all I could see was they both came out with dry hair! This led me to believe that very little swimming was going on and even less progress was being made! My eldest was moved into a higher class (she should have been in that class all along, as she already had her STA 5 metre distance award from Puddle Ducks). I could now see what was going on and I wasn't happy. They had her wearing armbands, when I suggested a woggle instead they initially gave her it in addition to the arm bands. Her position in the water was too high and she was unable to get her head down to get that alignment needed for beautiful swimming. Fast forward a few weeks of Daddy taking them and I go back again.
 I feel I need to be honest here, I am a qualified Baby and Preschool swimming teacher and formerly taught for Puddle Ducks. Over the last few years I have watched 100s of Swim Academy Lessons taught expertly by Puddle Ducks Teachers. In every Swim Academy lesson there are opportunities for progression, expert guidance and support from the teachers in and out of the water. The teachers adapt and adjust the lessons to allow each child to progress and learn to swim beautifully. Sadly, the teachers at the competitor we went to, clearly did not have these skills or the motivation to develop the children they were working with. For this reason, as soon as I had confirmation of a promotion at work I got straight back in touch with Puddle Ducks. Yes, the lessons are more expensive, Are they worth it? Absolutely! I could have paid the cheaper rate and watched my child learn nothing and make no progress (a boy in my daughter's class has been wearing two arm band discs on each arm for over a year!). Or, I could pay more and have my children making progress and becoming awesome swimmers much more quickly.
 I don't teach swimming anymore because my new job has become a new career, I don't get a discount on lessons or any freebies! I chose to come back to Puddle Ducks as soon as my budget allowed because I know from years of experience with different swim schools that they are the best. All I can say is that if you can find a way to pay for Puddle Ducks lessons, you will be getting excellent value for money and not wasting it like I did at the other local swimming lessons! With Puddle Ducks you get the expertise and quality that you are paying for"