Learning to swim with Puddle Ducks and Swim Academy will open doors to many different aquatic opportunities for your child. Whether it's being able to leisure swim with their friends on a Saturday afternoon, undertake sports such as diving or water polo, surfing on holidays, competitive swimming or synchronised swimming! The list is endless.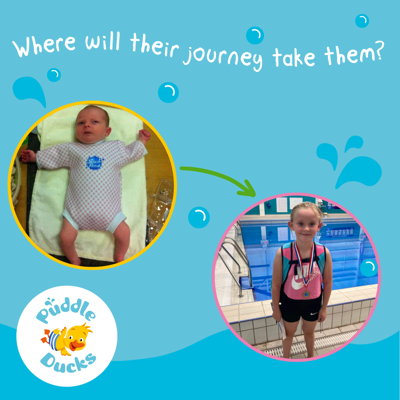 "When I had my first child, I was keen to get her into the water as soon as possible, she started her Floaties lessons at just 6 week old. I always loved the lessons, it was a special time for me to bond with her. She moved up through the classes as she became more confident and reached the lessons goals. We continued Alana's swimming journey right through to Swim Academy. At age 6 Alana continued her swimming progressing quickly through the stages.
At age 7 Alana had completed all her stages plus bronze and silver and was then given some exciting options to consider, one being synchronised swimming. Alana joined the City of Leeds club and has been building on her training. She is now 9 years old and trains 12 hours a week working towards some exciting competitions this summer.
I honestly believe that Alana's love for water and her confidence to swim underwater came from her time at Puddle Ducks. The Teachers were all fantastic and I made some lifelong friends at the lessons with other parents."
Wow Alana, you are amazing and we are so proud to have started you on your swimming journey! Thank you Andrea for sharing your experience of Puddle Ducks!