Find out about baby, toddler, and child swimming classes, Aquanatal and Swim Academy classes for primary school children, in and around West Berkshire, Reading, Yateley, Odiham, Frimley, Bagshot and more!
The perfect introDUCKtion to swimming
Hello and a warm welcome from Puddle Ducks West Berkshire!
We provide Baby & Pre-school swimming classes (from birth, through to toddlers and pre-schoolers), Swim Academy classes for primary school children and Aquanatal classes for mums-to-be.
A BIG welcome from Puddle Ducks West Berkshire, Jacqueline Green started Puddle Ducks swimming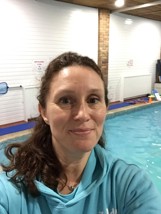 lessons with her little girl Grace when she was just 9 weeks old, and it soon became their favourite outing of the week. Grace grew in confidence every week and the whole experience exceeded Jacqueline's expectations.
Puddle Ducks West Berkshire are so proud to be able to offer these fantastic classes in Reading, Yateley, Odiham, Bagshot, Frimley and West Berkshire!
Our Puddle Ducks programme is constantly being developed and updated to make sure it is the best possible class for your little one. We tailor each class to the needs of your individual child, so that they can progress at their own rate.
You can start your journey with us before you have had your little one, by attending one of our Aquanatal classes for Mums-to-be (a mix of light Aquacise, Relaxation and Yoga in the water). After your bundle of joy is here, they can start lessons from birth and can stay with us all the way until the end of Primary School; building up a very strong relationship with their teacher.
We cannot wait to meet you at one of our Puddle Ducks classes. We teach in areas all over West Berkshire. (and are always on the look-out for new pools, if you know of any!).
Not sure which is the right class?
Contact our friendly office team… 
Telephone: 01252 418250
Email: westberkshire@puddleducks.com
Office open Monday - Thursday 9.30am - 2:30pm Friday 9.30am - 12pm 
We look forward to welcoming you into the Puddle Ducks family very soon!
Jacqueline 
Local News
Our Partners