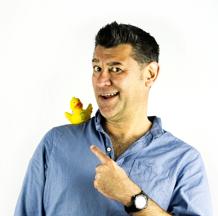 Clive
Founding Partner; Operations, Recruitment, Training, Logistics and Pool Relationships
PADI Qualified Scuba Diver, STA-Qualified Pool Responder and STA Level 2 Baby & Pre-school teacher (and best cub scout at Faversham swimming Gala 1981!).
I gained my passion for swimming at a very young age having nearly drowned as a younger child.
It was my lovely daughter Gracie May who introduced me to the delights of baby swimming and I haven't looked back since.
I run all operational aspects of the business; recruitment, training and competency, marketing, pool relationships and pool acquisition. I also love a good spreadsheet!