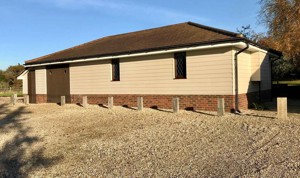 Term Dates can be found on the pool Timetable page
All you need to know – Robins Garth Hydrotherapy, Small Dole

Henfield Road, Small Dole, Henfield, West Sussex, BN5 9XJ
We can't wait to welcome you to Puddle Ducks at Robins Garth – in the meantime, here's some information that we hope you find useful. Have a splashtastic time!
Location: Robins Garth
Parking: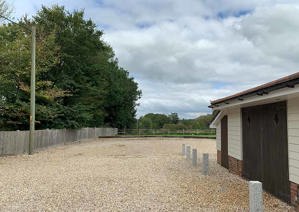 There is free parking for customers in the main car park.
We ask that customers adhere to the following parking plan when parking at this venue. Spaces are not marked on site so the layout of this plan is to give a sense of exactly where you should park.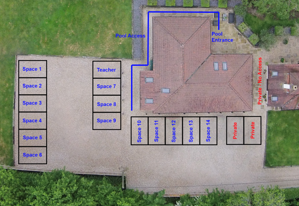 Essential Information:
We recommend that you bring a small changing mat that can be rolled up and placed in your bag so that you always have a dry place to change your baby.
A well-fitting neoprene swim nappy must be worn with a disposable swim nappy or one of our environmentally friendly Eco Swm NappyWrap & Liners underneath if your child is in Floaties, Splashers or Kickers and in other programmes if they are not fully toilet trained. Why not buy one of our great value swimming kits which contain everything you need for your swim lesson.
We recommend that children under 13 weeks old wear a BabyWrap or other baby wetsuit; these can be purchased from our shop.
You can find lots more useful information about attending our swim classes on our FAQs page.
Exclusivity: Puddle Ducks has exclusive use of the pool during our lessons.
Changing rooms:
There are three unisex changing cubicles, one of which can accommodate up to three same sex swimming adults and their children. There is also a toilet / shower room which can act as emergency changing space too.
You will be asked to wait outside the pool hall in the lovely waiting area until just before your class is due to start to avoid disturbing the class in progress.
There is no lockable storage in the changing rooms so please do not bring valuables.
Spectators:
Spectators are welcome at this venue.
We ask that because there is limited parking space, any spectators come in the same car as yourselves and do not travel separately. Your spectators may be asked to leave if they bring a separate car and we need their parking space for other customers.
Please keep noise to a minimum so as not to disrupt the class in progress.
Outdoor shoes are not allowed in the pool hall.
The pool hall is warm so we recommend that spectators bring water with them to keep hydrated.
Photography and Videos:
You may only take photographs or video footage during 'splash time' and must not interfere with the lesson.
Your child/relative must move to the side of the pool away from the rest of the customers so that they are not visible in the image (including the background).
Underwater photographs and underwater videos are forbidden.
Please remain sensitive to the feelings of others and always stop should you be asked to do so.
The Puddle Ducks teacher or Poolside Assistant working at the venue has the right to view the images taken and delete any taken at the pool: in all instances the decision of the Puddle Ducks team member is final.
Poolside Assistant: A Poolside Assistant is present at the venue during Puddle Ducks lessons.
Technical information:
Pool temperature: 32-33°C. (We recommend that babies under 13 weeks old wear a BabyWrap or other baby wetsuit; these can be purchased from our shop.)
Depth: A uniform 1.3 metres
Maximum class ratios: 6 children/adult pairs:1 teacher