Trainee Weekend Teacher
Tunbridge Wells Area
It's rare that we at Puddle Ducks advertise for trainee teachers.
Most of our teachers have either joined us as Poolside Assistants and decide to progress or our customers approach us wanting to teach.
This time it's different - we are reaching out to YOU!
Our teachers are right at the centre of what we do. Our success is totally dependent on having the best teachers, where commitment, passion, loyalty and the ability to create a good rapport with parents, carers, babies and children are all essential.
This is an excellent opportunity to be a part of our flourishing Puddle Ducks team - and still have time with your family AND get paid while you train!
We break for many of the school holidays and hours initially on offer are very likely to grow.
Fantastic internal support network and in house training programme
We are looking to recruit a Trainee Teacher to work initially as a Poolside Assistant while we train you carefully over a 6 - 9 month period to teach in the Tunbridge Wells area for one or two sessions over the weekend locally.
Initial Poolside Assistant hours will be supporting a fully qualified teacher and giving customers a wonderful experience dry side at a local venue.
Key Skills/Attributes:
Excellent interpersonal and communication skills
A passion for children and for teaching
No previous Swimming Teaching experience is necessary as full training will be given but basic qualifications will need to be achieved locally (with our help and support) including STA Baby & Preschool and STA Award for Swimming Teachers & Coaches (STA STC) (or RLSS National Rescue Award for Swimming Teachers and Coaches (NRASTC) lifesaving award)
Clean Disclosure & Barring Service (DBS) check (conducted by Puddle Ducks)
Computer literate
You need to be a reasonably competent swimmer (able to swim 25m and dive to the bottom of the pool).
Valid Driving Licence and use of own car is essential
Main Responsibilities:
Teaching Swimming Classes for babies and children from birth to four years
Maintaining a safe and enjoyable experience for your customers
Sharing a passion for baby swimming
Loving every second of what you do!
Puddle Ducks in house training to take place at a 4 day residential course in Nottingham Monday 18th to Thursday 21st February 2019 (or possibly a later 4 day course elswehere in the country, details TBC if a better all-round fit)
Further sessions will be made available with experience
Further in pool training will take place locally with our experienced team prior to qualification.
Hourly teaching rate from £17.50 rising to £20 per hour based on experience.
applications to include a full CV and covering email HERE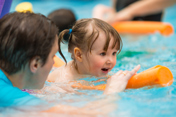 Application Deadline: Monday 5th November 2018
Maybe our next expert teacher will be YOU!