Congratulations to Marie who has won our Star Teacher Autumn 2022 award with this beautiful nomination from Freddie and his mum Fiona;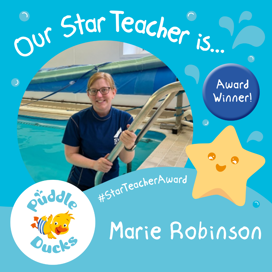 "Marie has been absolutely amazing.
I had high anxiety leaving the house after the lockdowns and then being ill while pregnant and struggling to adjust to having a baby. I forced myself to take Freddie swimming to get out of the house and Marie was our teacher.
She was so amazing making me feel relaxed and confident with Freddie in the water and is supportive if i'm ever struggling with any of the activities.
I wouldn't have stuck to it without her. Thank you!"
Thank you so much to everyone who took the time to nominate our fabulous teachers for this award, and huge congratulations again to Marie.
This nomination will now be submitted to Head Office for the National competition. Fingers crossed xx