Congratulations to Michelle who has won our Star Teacher Autumn/Winter 2021 award with this beautiful nomination from Darcey and her mum Mary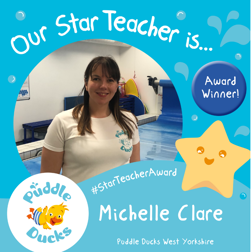 "I am a super confident swimmer but a new mum suffering with anxiety. Bringing my daughter to lessons was daunting for me, and I was so worried I'd pass on my anxiety. Having a teacher who I can talk to, share my worries with and get extra support from is incredible.
She takes extra time to reassure me, demonstrates with my baby to help me have positive goals and always praises me as much as she does my floaty!
I wouldn't be able to enjoy, or even attend lessons without such an attentive, professional and caring teacher. We both leave every lesson feeling energised and happy because of her wonderful approach to teaching us.
She is absolutely a star." 
Thank you so much to everyone who took the time to nominate our fabulous teachers for this award, and huge congratulations again to Michelle. This nomination will now be submitted to Head Office for the National competition. Fingers crossed x