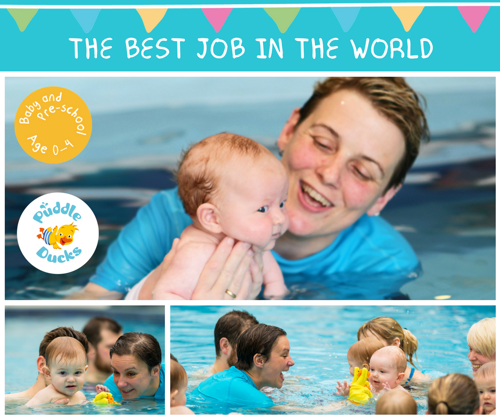 💦 Your chance to do the BEST job in the world 💦
Poolside Assistant- 
Would you like to do the best job in the world?

Here at Puddle Ducks Worcestershire we are currently looking for a Poolside Assistant's at the following venue's:
We have the following shifts available
Shift 1 = Saturday - 8.15pm - 11.45am - 3.5 Hours or
Shift 2 - Saturday - 11.45am - 3.15pm - 3.5 Hours
Sucessful applicant can work either AM or PM shift or alternate each week.
TruGym - 
Tuesday - 9.15am - 11.45am and 3.45pm - 6.15pm - 5 Hours
Sunday - 7.45am - 12.30pm - 4.75 Hours
Monday 11.45am - 2.45pm - 2.5 Hours
This is a lovely role welcoming and assisting our customers and helping to make sure our classes run smoothly, as well as being an extra pair of hands on poolside 💦
The role will include:
- ensuring the rules for Puddle Ducks customers are followed
- helping the teacher where necessary during the lessons
- ensuring the pool area is kept clean, tidy and safe
- providing assistance to the teacher in case of an emergency
- helping customers with any questions or queries and making sure we provide the highest customer service possible.
Please be aware that you will need to be able to get yourself to the venue and you may have items that need to be taken to the pool.
Customer Services Administration Assistant
An excellent opportunity to be part of an exciting organization!
16.5 hours per week (over 3 week days- 9.30am-3pm)
(To include Mondays, Thursdays and Fridays and be fully flexibility to pick up extra hours as needed to cover holidays)
Fun, dynamic team
Competitive hourly rate of pay
To form part of the "on- call "weekend rota
Key Skills Required:
Exceptional computer and database skills
Polite and friendly telephone manner- always wanting to exceed customer expectations
Sales
Flexible team worker able to use own initiative
Forward thinking and solution finding
Main Responsibilities:
Dealing with customers on the telephone, by email and social media
Managing the customer database and regular communication with teachers and customers
Day- to Day office/Admin activities involved in the smooth running of an office
Puddle Ducks Swimming Teachers
We are looking for some super new swimming teachers to join our team. 
Did you know it takes someone very special to become a baby and toddler swimming teacher? 
Is this you? 💦
- you love being in the water and are able to swim
- you're bubbly, confident and love to have fun
- you're a great team player
and you love being around babies & children?
If so, then you could be just the person we're looking for to help us teach babies and children a skill for life, build their water confidence and help them to have super fun-filled classes in the water!
No experience necessary as you will be fully trained, but any swimming teaching qualifications/experience would be a bonus. Some weekend work will be required. 
If you are friendly, professional, reliable and keen to learn, this job could be for you.
If you're interested then please fill in your details below and we will be in touch very soon
If you are interested or would like to find out more then, please fill in the form below or get in touch via email at worcestershire@puddleducks.com or call our office on 01905 888346.
We can't wait for you to join our team
xx