Everyone would agree that it is extremely important to learn to swim. Not only is it great fun and fabulous exercise, but it is also a key lifesaving skill.
At Puddle Ducks we go one step further – we incorporate lifesaving activities in all of our programmes, from birth through to school children.  And of course, we make them fun!
All our efforts culminate in our fabulous Pyjama Weeks, held three times a year.  All of our parents, babies and children come to classes in their pyjamas, learn some new skills and feel what it is like to swim with clothes on.
This time our Pyjama Week falls in line with the STA's learn to swim water Safety program running nationally from the 9th of May 2022 until Sunday the 15th.
We caught up with some of your Teachers to find out exactly why Pyjama week is so important, what there most loved activities are and to get an incite into just why they enjoy this week so much.
Senior Teacher and program assessor Zara couldn't wait to talk about Pyjama week
"PJ Week helps remind us how important it is to teach our little ones life skills in the water. It allows our swimmers the opportunity to understand what it feels like to be in water wearing clothes, so should this happen accidentally they do not panic as their initial reaction. It also a good opportunity to share this experience, which is why we encourage adults attending during PJ Week to wear theirs too. The lessons not only teach valuable water safety skills, but also allow swimmers to express themselves in the water and feel how it affects their movement as they practice their swimming. Our older swimmers in Swim Academy develop this further by learning life saving skills and practices as part of their lessons"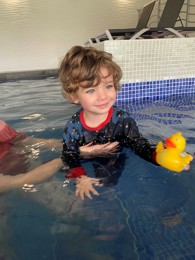 When we caught up with Teacher Rachel she couldn't wait to tell us more
"PJ week is so much fun! It's like we're having a PJ party in the pool and everyone loves to show me their snazzy PJs - unicorns and rainbows are my fav design but I love all the superhero PJs too! But the BEST bit is, that whilst we're all having such a fabulous time, the little ones are also learning and practicing some vital personal survival skills without even realising it!We practice back floating or treading water whilst we wait for help to arrive and we love to fall off the boat ride, turn and reach back to hold onto the boat - all such fantastic skills, which applied in an emergency situation could save a little life, but the MAGIC bit is that this is all learnt through PLAY and having FUN!"
Teacher Charlotte just loves PJ week
"I love teaching PJ week as I think it's so important for our little swimmers to feel how different it is in water with clothes on. My favourite activity is resting on our backs, even as young as our Floaties, it's so important for them to realise that floating on your back expels no energy but you can still breathe. I really believe it could save someone's life"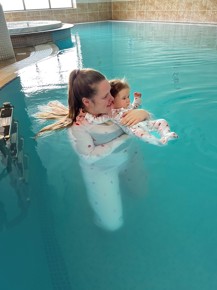 Teacher Jo said
"We always have fun in our Pyjama week classes. I have so many favourite activities but the Little Dippers warm up on woggle with shout for help is such a great activity and ensures your children know to Shout for help if they were to get into difficulties. I just love how they get louder and more confident with each width. Also Rescue the Duck - I love this activity as it helps nervous swimmers with their kicking on woggles, I find that they are so focused on getting the Ducky they forget their nervousness and just have fun, which is what makes Pyjama week such a special lesson"