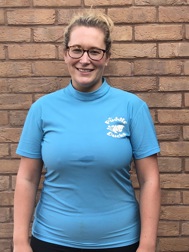 We are delighted to announce that Hollie has won Star Teacher for 2023. We had lots of fabulous nominations but this one stood out and highlighted what a great job Hollie is doing;
Lucy the pool owner at Croft House Pool chose Hollie's nomination out of the 57 nominations received.  
Thank you to Thea's dad who gave this winning nomination:
"Hollie always greets you with a smile and is brilliant with the children. Hollie manages to calm them if they are upset, get them excited if they seem down and make them laugh. Hollie goes out of her way to accommodate my child if she is being fussy giving her the colour float or ball she wants and helping to calm her while encouraging her to complete the activity. Hollie is also very supportive to the parents, offering advice, support and is always open to questions. Thank you, Hollie."
Lucy from Croft House Pool said...
"How lovely to see so many positive comments from your customers. It was SO difficult to choose".
Thank you, Lucy, for taking the time to read through all the nominations and for choosing such a wonderful winning nomination.