We can't wait to welcome you to Puddle Ducks at our Feckenham pool - in the meantime, here's some information that we hope you find useful. Have a splashtastic time!
All you need to know - Feckenham Pool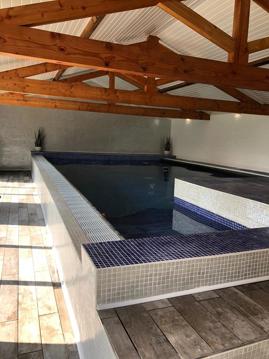 If you are attending our Feckenham pool for the first time or it is not your regular pool, please read the document linked & information below:
Location:
39 Droitwich Road, Feckenham, B96 6RU
The house is on the right as you enter Feckenham from the Droitwich end and has green railings and gate, if you are coming from the other end of Feckenham it is on the left before the 60 mile an hour sign post.
Please note there is no parking on the main road due to its busy nature, please park on the driveway in the correct spot for your class.
*Please note that the SatNav directs you to the wrong side of the road please look out for the property with the green metal fence and gates.
Parking: Entrance through the one set of gates in front of the double garage (please do not enter or exit through the other gate as this is for the home owner).
We have a car parking system in place where each class parks in 2 lines blocking the car in front in. Cars will park in 2 lines on the right and 2 lines on the left. 
Please pull up right to the car in front of you and block that car in, all cars should be in the same class and will be leaving at the same time.
(The link for the car parking rota and diagram of how to park is above)
Please do not bring Pets on site and walk them on the property.
Essential Information:
Please arrive no more then 10 minutes before the start of your lesson and leave the changing rooms within 15 minutes of your lessons finishing, this will enable our staff time to clean the changing rooms in between our lessons.
Puddle Ducks have exclusive use during hire times.
IMPORTANT - Look out for and read the Puddle Ducks signs and notices please
Please do not enter the pool unless told to do so by your teacher.
Strictly no eating or smoking on the premises
There is a Puddle Ducks poolside assistant present.
A well-fitting neoprene swim nappy must be worn with a disposable swim nappy or one of our environmentally friendly nappy wraps and liners underneath if your child is in Floaties, Splashers or Kickers and in other programmes if they are not potty/toilet trained.
Changing Rooms:
Changing is poolside, toilet and 2 open showers poolside
Unfortunately, spectators will not be allowed at Feckenham, the practical layout and very small space poolside means we have decided to maintain a no-spectators policy to keep everyone as safe as possible.
We will however allow School aged children (aged 5+) to sit poolside on a towel should they need to attend. We must stress that any children sitting poolside must be responsible enough to remain sat and will remain the responsibility of the parent/carer in the pool. This will mean that the parent/carer may need to exit to pool if required. Any children sat poolside should be dressed for a warm poolside environment. (If you require assistance due to a disability (either your own disability or your child's), then you are able to bring a spectator to help as necessary.)
There are strictly NO shoes allowed in the pool hall, please remove your shoes prior to entering the pool hall or ask for the pair of shoe covers
Please bring a changing mat for your little one (Floaties, Splashers & Kickers) 
Please do not allow your children to climb on the bench or Turtle Ornament  
Please take ALL nappies home with you
Please bring your towels poolside for your babies
Please supervise your child at all times
Technical information:
Pool Temp: 32 oC
Pool Dimensions: 9m x 6m
Max Preschool ratio: 8 children/1 adult pairs : 1 teacher