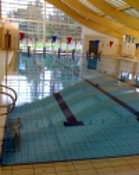 All you need to know - Malvern College

Malvern College, Entrance off Thirlstane Road (or Woodshears Road), Malvern, Worcestershire, WR14 3PL
We can't wait to welcome you to Puddle Ducks at Malvern College - in the meantime, here's some information that we hope you find useful. Have a splashtastic time!
If you are attending our Malvern College pool for the first time or it is not your regular pool, please read the document linked below:
Malvern College Covid Pool Information
Please note that due to current Covid-19 restrictions, many of our procedures have temporarily changed and some of the information below may not be accurate.  When you sign up for classes you will be provided our Malvern College Covid Pool Information document which explains the procedures currently in place and our office staff will be pleased to assist you with any queries.
Location: Malvern College
Parking: There are 60 parking spaces in the car park off the Thirlstane Road entrance and further parking by the Woodshears Road entrance. The closest car park to the sports centre is the Thirlstane Road entrance.
Changing rooms: One large changing room for females and another large changing room for males with direct access to pool.  
Exclusivity: Puddle Ducks have exclusive use during hire times.
Access: Spectators are allowed poolside. This modern facility has been built to fully accommodate disabled access, which also benefits pushchair users.
Poolside Assistant: There is no Puddle Ducks poolside assistant (there is a Malvern College lifeguard in attendance).
Technical information:
Pool Temp: 30oC
Pool Dimensions: 13 x 25m
Depth: 0.9m graduating to 2m, roped off at 1.4m
Max Preschool Class Ratios: 10 children/adult pairs:1 teacher
Other:
There is seating and a Starbucks coffee shop in the foyer which customers may enjoy after classes.
A well fitting neoprene swim nappy must be worn with a disposable swim nappy or one of our environmentally friendly nappy wraps and liners underneath if your child is in Floaties, Splashers or Kickers and in other programmes if they are not potty/toilet trained.