All you need to know - The Whitehouse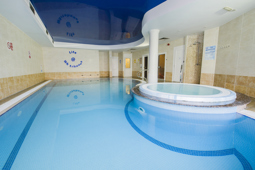 Foregate Street, Worcester, WR1 1EA
We can't wait to welcome you to Puddle Ducks at The Whitehouse Hotel - in the meantime, here's some information that we hope you find useful. Have a splashtastic time!
Covid-19 - Guidance
Please continue to wash your hands before entering the pool area. Hand Sanitizer is available at this venue.
Face Coverings: We will continue to encourage the use of Face Coverings for adults at the pools, for everyone's safety. The government in England produced guidance from 10th December 2021 stating: 'In indoor settings where a face covering is not legally required, you should still continue to wear a face covering (unless you are exempt) in crowded and enclosed spaces where you may come into contact with other people you do not normally meet.' Face coverings should not be worn in the pool itself.
Thank you for your co-operation.
Access: Unfortunately, spectators will not be allowed at The Whitehouse the practical layout and very small space poolside means we have decided to maintain a no-spectators policy to keep everyone as safe as possible.
If you require assistance due to a disability (either your own disability or your child's), then you are able to bring a spectator to help as necessary.
Arriving swim-ready – what does that mean?
You and your child should arrive swim-ready at the venue i.e. with your swimming costume/trunks/swim nappy on underneath your clothes.
We appreciate that those children still in nappies might need a nappy change just before their lessons. Ideally this can be done in the car before entering the building but if not, please take a change mat to the poolside with you and make sure you have nappy bags and another bag in which to put the nappy bag to ensure there is no waste left visible at poolside.
Please bring only the essentials (keeping valuables to a minimum) and one bag to put everything in  and we ask this is hung up and pushed under the benches not left on the bench.
We advise that you all bring a change mat that can be rolled up and placed in your bag, especially those of you who have little ones who would normally use a change table or a bench.
Arrival Time: Please arrive no more then 10 minutes before the start of your lesson and leave the changing rooms within 15 minutes of your lessons finishing, this will enable our staff time to clean the changing rooms in between our lessons.
Pushchairs & Car Seats: Due to the small nature of the leisure centre, we ask that unless you have walked you do not bring a pushchair into the building as there is limited space to store them. If needed, please bring a car seat with you and this can be stored above the lockers or in the leisure centre entrance during your lesson.
Parking: There is a barrier operated car park which customers can use, however spaces are limited and on a first come first served basis. Please take your car park ticket and collect an exit pass from reception before returning to your car.
Changing rooms: There are male, female and disabled changing rooms.
Exclusivity: Puddle Ducks have exclusive use of the pool during hire times.
Poolside Assistant: There is a Puddle Ducks Poolside Assistant present.
Technical information:
Pool Temp: 30-31oC
Pool Dimensions: The pool is a 'P' shape. The longest edge of the 'P' is 10m and at the widest point, the pool is 6m. 
Depth: a uniform depth of 1.2m
Max Preschool Class Ratios: 7 children/adult pairs:1 teacher
Other:
The Whitehouse Hotel is opposite Foregate Street Train station. The entrance to the leisure centre is directly off the passageway from Foregate Street into the car park and has a ramped access. There is limited room for pushchairs, if you come by car please use a car seat to save space for customers walking to the venue, we also ask that if possible pushchairs and prams are stored in a folded/collapsed state when not in use.
A well fitting neoprene swim nappy must be worn with a disposable swim nappy or one of our environmentally friendly nappy wraps and liners underneath if your child is in Floaties, Splashers or Kickers and in other programmes if they are not potty/toilet trained.
Local Information:
Closest Cafe: Costa Coffee, 52 Foregate St, Worcester WR1 1DX
Closest Park: Cripplegate Park, 45 Tybridge St, Worcester WR2 5BA
Closest Soft Play: Shake and Play, Trinity St, Worcester WR1 2PW