All you need to know - Wollescote Primary School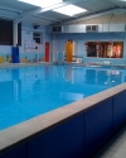 Wollescote Primary School, Drummond Road, Stourbridge, DY9 8YA
We can't wait to welcome you to Puddle Ducks at Wollescote Primary School - in the meantime, here's some information that we hope you find useful. Have a splashtastic time!
Covid-19 Guidance & Pool Information
Please continue to wash your hands before entering the pool area. Hand Sanitizer is available at this venue.
Face Coverings: We ask that you continue the use of Face Coverings for adults at the pools, for everyone's safety. The government in England produced guidance from 10th December 2021 stating: 'In indoor settings where a face covering is not legally required, you should still continue to wear a face covering (unless you are exempt) in crowded and enclosed spaces where you may come into contact with other people you do not normally meet.' Face coverings should not be worn in the pool itself.
Thank you for your co-operation.
Access: Unfortunately, spectators will not be allowed at Wollescote Primary School, due to the nature of the pool being in a school we have decided to maintain a no-spectators policy to keep everyone as safe as possible.
If you require assistance due to a disability (either your own disability or your child's), then you are able to bring a spectator to help as necessary.
Arriving swim-ready – what does that mean?
You and your child should arrive swim-ready at the venue i.e. with your swimming costume/trunks/swim nappy on underneath your clothes.
We appreciate that those children still in nappies might need a nappy change just before their lessons. Ideally this can be done in the car before entering the building but if not, please take a change mat to the poolside with you and make sure you have nappy bags and another bag in which to put the nappy bag to ensure there is no waste left visible at poolside.
Please bring only the essentials (keeping valuables to a minimum) and one bag to put everything in  and we ask this is hung up and pushed under the benches not left on the bench.
We advise that you all bring a change mat that can be rolled up and placed in your bag, especially those of you who have little ones who would normally use a change table or a bench.
Arrival Time: Please arrive no more then 10 minutes before the start of your lesson and leave the changing rooms within 15 minutes of your lessons finishing, this will enable our staff time to clean the changing rooms in between our lessons.
Parking: Parking is available on Drummond Road and on Bald's Lane in the immediate vicinity of the school.
Changing rooms: One changing room for females and another for males with direct access to pool.
PLEASE BE AWARE THAT CHANGING WILL BE COMMUNAL, THERE IS ONE CLOSED CUBICLE IN EACH CHANGING ROOOM AND A DISABLED TOLIET WHICH CAN BE USED IF NEEDED. WE THEREFORE ADVISE THAT YOU COME AND LEAVE BEACH READY AND CLOTHES EASY TO GET ON AND OFF.
School Rules: Please remember this is a school with children learning and playing, we ask when you arrive you make your way straight to the pool hall and once you have changed after your lesson you leave site immediately.
Please note: There is no space for Pushchairs to be left on site or in the building you will need to carry or use a car seat to bring your little one to your lesson.
Exclusivity: Puddle Ducks have exclusive use during hire times.
Spectators: Spectators are allowed to watch the lessons but they must watch from the viewing window and are not allowed in the changing rooms or poolside.
Poolside Assistant: There is a Puddle Ducks poolside assistant present.
Technical information:
Pool Temp: 30-31oC
Pool Dimensions: 13m x 7m
Depth: 1.1m across the pool
Max Preschool Class Ratios: 10 children/adult pairs:1 teacher
Other:
To help keep the changing room clean please remove all outdoor shoes before entering. Shoes should be stored in the baskets provided. Where shoes cannot be removed overshoes are provided.
Please access the school by foot. The gate is electronically operated from the school office outside of normal school dropping off times. Press the button at the pedestrian gate and let the school office know you are there for Puddle Ducks swimming lessons. The school office will open the gate for you. As you walk through the gate you will see red railings ahead of you to the right. Head towards the railings and the pool building is in front of you. The entrance to the pool building faces the red railings. As you enter the building, the female changing is on the left and the male changing on the right. There is a viewing area between the changing rooms for guests.
A well fitting neoprene swim nappy must be worn with a disposable swim nappy or one of our environmentally friendly nappy wraps and liners underneath if your child is in Floaties, Splashers or Kickers and in other programmes if they are not potty/toilet trained.