Hello and a warm welcome from Puddle Ducks York, Hull and East Yorkshire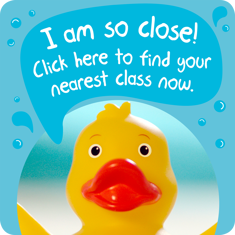 I'm Ellie and I am both proud and delighted to be bringing the Puddle Ducks experience to York, Hull and the surrounding areas.
My husband and I have been taking our children Alice, Oliver and Arlo to Puddle Ducks since they were tiny (9 days old for Arlo!) and I believe that joining the Puddle Ducks programme will be the most fun you will have with your child. We loved it so much we decided to move to York and run our own classes!
Our Baby & Pre-school (teaching swimming from birth, through to toddlers and pre-schoolers) classes follow a truly unique and nationally recognised programme which is constantly updated so it is always fresh and exciting.  Designed by leading UK baby and child swimming experts, every class is different and your little one can start Puddle Ducks baby and toddler swimming lessons at any age up to 5 years old.
Whether your child is coming from a toddler swimming class, or has never been in the water before, all our activities are individually tailored so that your child gets the attention he or she needs. That's the Puddle Ducks' difference.
We also run an Aquanatal programme which is also fantastic for mummies-to-be, offering a lovely combination of gentle exercise, muscle strengthening and relaxation.
Take a look at our pools, I'm sure we have the ideal class for you. Our office opening hours are Monday to Friday, 9.00 am to 12.00 pm, so please give our team a call if you need any help.
We look forward to welcoming you to a class very soon.
Ellie x
Local News
Our Partners