Our Puddle Ducks Teachers are as highly trained as they can be, giving you the peace of mind that your little ones are being taught by the best.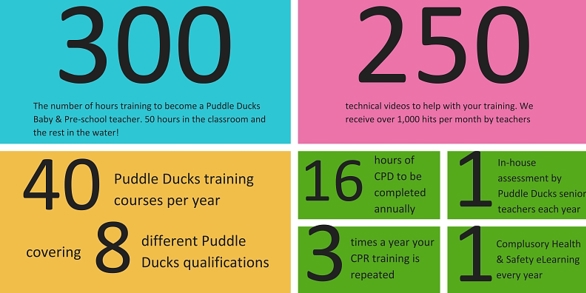 An STA World Partner, Puddle Ducks is recognised as a shining example of teaching standards by the world's largest independent swimming teaching and lifesaving organisation.
Our Technical Director, Ali Beckman, is supported by an amazing team of Super Teachers (yes, that is a real job title!).
Our Technical Team
Ali Beckman

Technical Director and Head Teacher

Ali is Puddle Ducks' Technical Director and Head Teacher. Ali is a UK leading expert in swimming teaching, highly regarded within the industry. She heads a team of Regional Technical Managers, Tutors and HQ Accreditors who train and support the wonderful network of teachers at Puddle Ducks.

Ali was a competitive swimmer for Swinton ASC and Salford Triple S until an injury forced her to quit at the age of 15. This is when a love of teaching swimming was born as Ali still wanted to have some involvement in the sport. In 2001, Ali moved from Salford to Northwich and set up home with her husband Simon. In 2004 their first child was born and when he was just eight weeks old Ali had him in the pool. She found Puddle Ducks soon after and fell in love with it. A short time later Ali was to become the first employee of the company.

Ali is a qualified ASA, STA and Birthlight teacher as well as being an STA swimming, aquacise and lifesaving tutor and examiner. She loves all areas of her work especially developing the baby programmes and also the aquanatal and pregnancy swimming programme.

Ali is the pregnancy swimming coach for Active for 2 which is run by Aptaclub.

She loves being in the water with all ages but admits her favourite lessons are with babies under six months of age. She says, "I love that I am the first teacher they have on the start of their swimming journey. To know that you introduced someone to the world of swimming and have helped them love the water is a magical feeling. It is even more special when that tiny baby turns into an independent happy swimmer a couple of years later. That's when you can say "I helped them do that". No-one understands that feeling unless they have been there."

Volunteering to support the wider industry is very important to Ali and this has led her to being involved in the Swimming Teachers' Association (STA) which is the largest swimming and lifesaving teacher training company in the world. Being President, Chair of the Governing Body and Designated Safeguarding Officer keeps Ali busy and allows her to support not only the STA but other swimming teachers, swim school owners and swimming clubs.

In her spare time Ali is never away from water, enjoying open water swimming, paddle boarding and kayaking.

Learn more

Nici Wragge

Technical Services Manager, Tutor, Regional Technical Manager (North West), HQ Accreditor

Nici is Puddle Ducks' in-house lifesaving and personal survival expert, and she ensures that our programmes have a balance of these two areas within them.  Nici is also an HQ Acceditor, Puddle Ducks Tutor and STA Tutor as well as the Regional Technical Manager for the North West.

Nici's relationship with the RLSS started when she was a youngster, taking part in her local lifesaving club and becoming a Rookie lifesaver completing her Bronze, Silver and Gold awards as well as taking part in Swimming Galas for her High School.  After taking a break, she returned to this, qualified as a RLSS Trainer Assessor and becoming Puddle Ducks' in-house lifesaving expert. Nici has also taken part in the Tesco Babysafe Roadshow with the RLSS - training parents in baby CPR.

Nici has a keen interest in open water swimming/activities, gaining her open water Silver Cross.  She regularly takes part in canoeing/kayaking (owning both types of boats) so being able to give her own children open water experience too.

Nici has three children that all enjoy swimming and lifesaving with her eldest daughter having achieved the St Johns Ambulance award in Junior Lifesaving. Having started her youngest daughter in the pool at just 3 weeks old Nici can see for herself that teaching children not just how to swim but also how to save their own life is massively beneficial.  Her youngest was demonstrating a knowledge of water safety when she was out on the canoe from just two years old.

Nici has also a personal experience and interest in children with behavioural difficulties and her knowledge has supported many parents and teachers who have children in their classes who are struggling with these issues.

Nici says "Being a swimming teacher/tutor gives me the greatest satisfaction and knowing that I have played a part in allowing children of all ages to be confident and safe in and around the water means that every day I go home from work with a smile on my face."

Rebecca Turner-Wyld

Regional Technical Manager (South East), Tutor, HQ Accreditor

Rebecca started her Puddle Ducks journey as a poolside assistant as the first employee of the West Kent & East Sussex franchise in January 2013, qualified as a teacher in March 2013 and was appointed Senior Teacher the following year.

Rebecca teaches Baby & Pre-school and joined the Puddle Ducks Head Office Technical Team in 2015 as a co-tutor, assisting on the Puddle Ducks Baby & Pre-school course. Since then she has qualified as an HQ Accreditor.

Prior to working for Puddle Ducks, Rebecca worked in the advertising industry, after having her first baby in 2012, she realised her work life balance was not what she wanted and revisited her love of swimming as a new career path.  As a child and teenager Rebecca had represented her club and school. She also competed in both pool and open water lifesaving competitions.

Rebecca loves teaching Baby & Pre-school swimming as it never feels like work, 'Teaching a life skill, while watching parents bond with their children, be it at four months or four years, is a privilege'.

Heather Whitaker

Regional Technical Manager (Midlands), Tutor, HQ Accreditor

Heather began her Puddle Ducks life as a Poolside Assistant and, very quickly realising that she wanted more, she started training to become a teacher. After a couple of years in the teaching role, Heather was promoted to Senior Teacher, and now holds the title of Head of Teaching within the Lincolnshire franchise.

Heather joined the Technical Team in December 2017 after being appointed to the role of HQ Accreditor for the East Midlands area.  In February 2020, Heather was promoted to the role of Regional Technical Manager supporting the Midlands area. Throughout the lockdowns Heather worked hard to achieve her STA Tutor, and enjoys teaching new teachers as much as the children.  She qualified as a Puddle Ducks Tutor in July 2021 and is responsible for delivering courses in the Midlands, to support franchise growth.

She particularly enjoys the in-water teaching, loving each of the programmes within Baby & Pre-school and Swim Academy for different reasons. Heather says "I can't think of a better reason to get up every morning than to see my customers and watch them progress in to beautiful swimmers". In her spare time she enjoys swimming and running, and confesses to having a secret Lego habit!

Wendy Silva

HQ Accreditor

Wendy joined the Puddle Ducks team in July 2014, after her son's teacher suggested that it might be something she would enjoy.  After teaching Baby & Pre-school classes for a couple of years, Wendy became a senior teacher and trained to teach Swim Academy classes as well. Working within the Bristol & Bath franchise, Wendy joined the technical team in July 2018 as an HQ Accreditor for her region. Although teaching children to swim was a complete change from her previous career as a Financial Services Project Manager, Wendy now couldn't imagine doing anything else.  She particularly enjoys mentoring new teachers and has been with Puddle Ducks long enough to see children she first taught as babies now achieving beautiful distance swims in her Swim Academy classes - something that brings a satisfaction it's hard to imagine experiencing in any other job. When she has any spare time, Wendy likes to travel and get out and about with her two crazy dogs - preferably in the sunshine!

Nikola Nascimento

HQ Accreditor

In 2010 Nikola was introduced to Puddle Ducks when she took her eldest son at 10 weeks old, and they both loved it! So much so that she thought "I'd love to do that job!"
Nikola first trained with Puddle Ducks in 2011 as a Baby & Pre-School Teacher, and then went on to train as a Swim Academy Teacher in 2012.

In 2013 she took just a term off teaching to have her second son and the following year was appointed the role of Senior Teacher.

Nikola was made Joint Head of Teaching for the Nottinghamshire franchise in 2017 and wanting to continue furthering her knowledge went on to complete the STA Level 3 Diploma in Baby & Pre-School Aquatics in 2018.

Nikola joined the technical team as an HQ Accreditor in 2019.

Nikola loves teaching children, playing an important role in their life and their love for the water, and says "I go to work with a smile and go home with an even bigger one!"

Outside of work when not being 'Mummy Taxi' to various activities she enjoys spending time with her two boys, family and friends, exploring new places, cycling and travelling.

Verity Howes

HQ Accreditor

Verity brought both her children to Puddle Ducks in 2010 and loved every minute.  She was due to return to work in 2011 when she made the decision to have a career change and became a Poolside Assistant for Puddle Ducks Wakefield before the beginning her training journey to become a teacher. Training to be both a Baby & Pre-school teacher and a Swim Academy teacher in 2012, Verity was keen to train further and became an Elite Swim Academy teacher a year later.  In 2015, Verity was appointed to the role of Senior Teacher within the Wakefield franchise and in 2017 she completed her STA Level 3 Diploma and then joined the Puddle Ducks Head Office Technical Team as an HQ Accreditor in 2019. Verity loves spending her mornings with little ones, seeing them splashing, kicking and blowing bubbles in the water without a care in the world, just perfectly relaxed and happy to be there and her evenings with school age children building confidence and learning strokes that quickly turn into effortless, graceful swimming.  She feels it is a privilege to be part of all these swimming journeys and is amazed to see them progress through the Puddle Ducks programmes, to become fabulous swimmers that she's helped and guided along the way.  What spare time Verity has is spent with family, enjoying long walks and adventures, she also loves to upcycle old furniture and create handmade items.

Hannah Tubbs

HQ Accreditor

Hannah has always had a passion for being in the water and this was passed on to her eldest son, who became a competitive swimmer himself. When she returned to work after having her second son, she decided to retrain and become a teacher to make a career out of something that she loves so much. She completed training and joined the Puddle Ducks family in 2015 as a Baby & Pre-school teacher. Within 18 months she also became qualified in Swim Academy and Aquanatal and found a love for all things Puddle Ducks. She was then appointed the role of Senior Teacher in March 2017.

Since then, an Elite Swim Academy programme launched in her home Franchise, Cherwell and Aylesbury Vale. She trained to teach our Elite Swim Academy kids so they can continue with their own journeys.

Hannah joined the Head Office Technical Team as an HQ Accreditor in 2019 and feels proud to be assisting, supporting and nurturing our amazing new teachers in their new ventures.

Hannah loves every role that she takes on but teaching is where she started and where she will always be drawn to. 

"To teach a child a valuable life saving skill, influences their whole family in such a positive way. I can give a child all the tools (and fun!) they need to swim safely and accurately, but it is their hard work and love for the water that brings the results and the smiles. That is priceless."

Zara Nicholls

HQ Accreditor

In 2015 Zara started her journey with Puddle Ducks; first as an Aquanatal customer and then taking her daughter for lessons. She absolutely loved the classes and thought what a wonderful job it would be. Two years later, she relocated to Shropshire and decided to leave her career as a Secondary School teacher and train to become a swimming teacher. Zara first trained in Swim Academy and this was closely followed by Baby & Pre School. In 2019, shortly before welcoming her second child, she trained as an Aquanatal teacher and was also promoted to the role of Senior Teacher for the Worcestershire franchise. During the first lockdown in 2020, she started completing her STA Level 3 Diploma in Baby & Pre School. Zara is proud to be able to support and nurture both new and existing teachers through her various roles.

Zara has accomplished a lot in her time with Puddle Ducks so far and absolutely loves everything she does. She always wanted to be a teacher, so the fact she was able to change her career, gain a better balance and already loved Puddle Ducks made it the perfect choice to utilise her existing knowledge and skills. Swimming is a vital lifesaving and water safety skill alongside a fantastic form of exercise. Zara loves that our classes allow children to learn these alongside the opportunity to play and explore at their own pace. Seeing the smiles and progress in the pool brings her such joy and satisfaction and she feels privileged to be part of their journeys.

Away from the pool, Zara spends time with her two children, friends and family and enjoys relaxing with crochet and dancing around with her hula hoop.

Samantha Hill

HQ Accreditor

Sam first joined Puddle Ducks as an Aquanatal customer in 2013 when pregnant with her eldest child. Having swam competitively until the age of 16 she had always been a lover of swimming and it's benefits, something she was keen to instil in her children. Instead, she loved our lessons and approach so much Sam decided she wanted to pass this on to more children!

Sam joined the North East team as a Poolside Assistant in 2015 and then went on to complete her Baby & Pre School teacher training in 2016 whilst pregnant with her second child. In 2018 Sam trained to become a Swim Academy teacher and in 2019 went on to become an Elite Swim Academy teacher.

In 2019 Sam also went on to become a Senior Teacher for the North East so she could pass on her knowledge and experience to new teachers and maintain our high standards of teaching.

Sam is still teaching all of our programme levels, including her own two children who attend her Swim Academy classes. She loves seeing the journey our swimmers make from tiny floaties all the way to elite swimmers and celebrating all of their milestones along the way!