Our Puddle Ducks Teachers are as highly trained as they can be, giving you the peace of mind that your little ones are being taught by the best.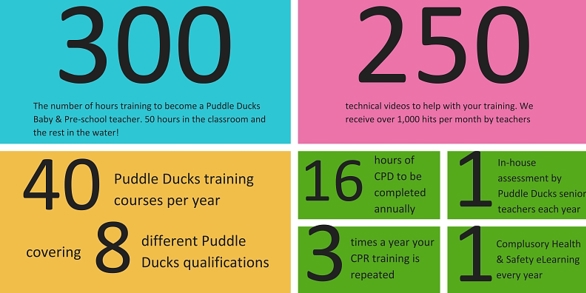 An STA World Partner, Puddle Ducks is recognised as a shining example of teaching standards by the world's largest independent swimming teaching and lifesaving organisation.
Our Technical Director, Ali Beckman, is supported by an amazing team of Super Teachers (yes, that is a real job title!).
Our Technical Team
Ali Beckman - Technical Director and Head Teacher

Ali is Puddle Ducks' Technical Director and Head Teacher. Ali is a UK leading expert in swimming teaching, highly regarded within the industry. She heads a team of tutors, programme assessors, 'Super Teachers' and submerging tutors who train and support the wonderful network of teachers at Puddle Ducks. Ali works closely with the Swimming Teachers' Association (STA) which is the largest swimming and lifesaving teacher training company in the world.

Ali was a competitive swimmer for Swinton ASC and Salford Triple S until an injury forced her to quit at the age of 15. This is when a love of teaching swimming was born as Ali still wanted to have some involvement in the sport.  In 2001 Ali moved from Salford to Northwich and set up home with her husband Simon. In 2004 their first child was born and when he was just eight weeks old Ali had him in the pool. She found Puddle Ducks soon after and fell in love with it. A short time later Ali was to become the first employee of the company.

Ali is a qualified ASA, STA and Birthlight teacher as well as being an STA swimming, aquacise and lifesaving tutor and examiner.  She loves all areas of her work especially developing the baby programmes and also the aquanatal and pregnancy swimming programme.

Ali is the pregnancy swimming coach for Active for 2 which is run by Aptaclub. 

Ali still teaches and has no intention of giving up!  She loves being in the water with all ages but admits her favourite lessons are with babies under six months of age.  She says "I love that I am the first teacher they have on the start of their swimming journey.  To know that you introduced someone to the world of swimming and have helped them love the water is a magical feeling.  It is even more special when that tiny baby turns into an independent happy swimmer a couple of years later. That's when you can say "I helped them do that". No-one understands that feeling unless they have been there".

In her spare time Ali still swims, competing in long distance open water events and loves watching her two children train and compete for Northwich Centurions (swimming club). 

Learn more

Tina Byatt

Tina works closely with Ali in her role as Deputy Technical Director, as well as working as Head of Teaching for Puddle Ducks Bristol & Bath. She has a great deal of experience in swimming teaching having taught babies through to adults and everything in between. Tina is our swimming pool nerd (her words!) and she is pool plant qualified, as well as being Health & Safety Advisor for the Puddle Ducks network of franchises. As a member of the Puddle Ducks Technical Team Tina is also a Super Teacher, which involves a programme assessor role, undertaking technical visits across the Puddle Ducks network providing technical support to the rest of the business, and helping to develop swimming programmes at all levels.

Tina has been a swimmer all her life, dabbling a little with competitive swimming in her youth and first becoming a qualified swimming instructor when she was 16. After time away from the sport and having started a family Tina refreshed her swimming qualifications gaining valuable experience teaching learn to swim classes at the local leisure centre and volunteering for the local swimming club, which resulted in her running their not inconsiderable learn to swim programme that feeds into the club for several years. Through her volunteer work at the swim club she met someone who worked for Puddle Ducks Bristol & Bath and the rest is history.

Tina is an ASA and STA qualified swimming instructor, as well as being an Aquacise, Aquatanal and Ante-natal swimming teacher. In addition to this Tina is an STA tutor and Puddle Ducks tutor for Baby & Pre-school, Swim Academy & Elite Swim Academy, as well as being a Submerging Tutor.

One of the best parts of the job is being in the water teaching – it is the most rewarding job Tina has ever had the pleasure to enjoy and she cannot imagine not ever doing it. Being able to bring to bear a positive influence on people with regards to their reaction to being in the water is just an amazing thing to do. Seeing customers, be it babies, toddlers, children or their parents/carers, blossom in new found water confidence/water & swimming skills is just a fantastic thing to be part of. Facilitating this journey that starts with water confidence and leads to fabulous swimming skills is just immensely rewarding.

Tina tries to fit in swims for herself whenever possible – hard to do when family and work take up a lot of time! River swimming and lake swimming are where it's at, but the best thing is being able to start the day with a great swim when the opportunity allows. Tina's kids are growing up with swimming as a central part of their lives, not to be the next Olympic champions, but so that they can get involved with all sort of exciting aquatic based sports in their future should they choose to and because swimming is such a great way to keep fit no matter how old you are!

Susan Hands

Susan is Puddle Ducks' in-house expert on underwater photography and training teachers to become Submerging teachers.  Susan is a swimming teacher and tutor for Puddle Ducks as well as being an STA Tutor, Submerging Tutor, Super Teacher and Programme Assessor.

A competitive swimmer, Susan swam with her local club until she was 17 before deciding to take her first swimming teaching qualification. Her life soon changed direction when she started a career in Countryside Management which included managing an area of water for activities such as windsurfing, sailing and canoeing. Susan's swimming skills came in useful as she had to hold the RLSS Silver Cross award and her teaching skills were also used when she became an instructor in water sports.

When Susan relocated to Cheshire she decided on a career change and became a Tumble Tots leader, learning about child development and gaining a deep insight into how little ones think and very importantly how they feel and learn enabling her to help them achieve new skills.  Through Tumble Tots Susan learned of Puddle Ducks and after observing one lesson she was hooked and decided to return to teaching.

Nici Wragge

Nici is Puddle Ducks' in-house lifesaving and personal survival expert, and she ensures that our programmes have a balance of these two areas within them.  Nici is also a Super Teacher, Programme Assessor, Puddle Ducks Tutor, STA Tutor and Submerging Tutor.

Nici's relationship with the RLSS started when she was a youngster, taking part in her local lifesaving club and becoming a Rookie lifesaver completing her Bronze, Silver and Gold awards as well as taking part in Swimming Galas for her High School.  After taking a break, she returned to this, qualified as a RLSS Trainer Assessor and becoming Puddle Ducks' in-house lifesaving expert. Nici has also taken part in the Tesco Babysafe Roadshow with the RLSS - training parents in baby CPR.

Nici has a keen interest in open water swimming/activities, gaining her open water Silver Cross.  She regularly takes part in canoeing/kayaking (owning both types of boats) so being able to give her own children open water experience too.

Nici has three children that all enjoy swimming and lifesaving with her eldest daughter having achieved the St Johns Ambulance award in Junior Lifesaving. Having started her youngest daughter in the pool at just 3 weeks old Nici can see for herself that teaching children not just how to swim but also how to save their own life is massively beneficial.  Her two-year-old already demonstrates a knowledge of water safety when she is out on the canoe.

Nici has also a personal experience and interest in children with behavioural difficulties and her knowledge has supported many parents and teachers who have children in their classes who are struggling with these issues.

Nici says "Being a swimming teacher/tutor gives me the greatest satisfaction and knowing that I have played a part in allowing children of all ages to be confident and safe in and around the water means that every day I go home from work with a smile on my face."

Alison Lewis-Dale

Alison is a Submerging Tutor and Programme Assessor.  She joined the Mid Cheshire franchise as a customer in 2005 and went on to train as a teacher for the Chester, Liverpool & Wirral franchise in 2008.  In 2011 Ali relocated to Nottingham and started to work for the Nottinghamshire franchise as their Senior Teacher. 

Ali joined the Technical Team in 2011 as a Submerging Tutor and was appointed to the role of Programme Assessor in July 2014 to support the Midlands.   She has a huge amount of knowledge and experience due to her many years with Puddle Ducks.

Julie Dugdale

Julie joined the Puddle Ducks North East franchise as a teacher in 2011 and was appointed to the role of Senior Teacher in 2013.  Julie is qualified to teach all levels for Puddle Ducks which includes Aquanatal, Baby & Pre-School, Swim Academy and Elite Swim Academy.  She is also the franchise Marketing Manager for the North East.

Prior to Puddle Ducks Julie completed a degree and a Master's in Business and worked in Human Resource Management for ten years. After having her first child she decided on a career change and has never looked back!

As Julie teaches all the Puddle Ducks programmes she is able to see the bigger picture including how Aquanatal to help new mums in baby swimming classes and how baby swimming can lead to amazing Swim Academy classes.  Julie is also a patient and supportive mentor to new teachers.

Felicity Goldsmith

Felicity joined the Puddle Ducks Oxfordshire franchise as a teacher in 2011 and was appointed to the role of Senior Teacher in 2013.  Felicity teaches Baby & Pre-School, Swim Academy and Elite Swim Academy, and has more recently been appointed the role of Programme Assessor.

Felicity would be the first to admit that swimming was the only sport she was ever any good at! She represented her school in both swimming and diving, and always loved being in the water. She first gained a teaching qualification during later school years, teaching the juniors and assisting in after-school swimming clubs.

More recently Felicity discovered the joys of open-water swimming and has competed in a number of triathlons. When she started a family, she knew it was time for a change of career, and sought options which would fit with family life and allow her to enjoy the sport she loves the most. The Oxfordshire franchise was in its very early stages, and she jumped at the opportunity to help get it off the ground.

Felicity loves her teaching role and the challenges and rewards it brings. She loves the excitement that new parents experience when they watch their tiny babies actively enjoying the water environment, and the pride that both parents and children feel when they start to achieve their own milestones in the pool. Her own children count the days to 'swimming day' and as a family the first choice activity is usually a trip to the pool!

Rebecca Turner-Wyld

Rebecca started her Puddle Ducks journey as a poolside assistant as the first employee of West Kent & East Sussex franchise in January 2013, qualified as a teacher in March 2013 and was appointed Senior Teacher the following year.

Rebecca teaches Baby & Pre-school and joined the Puddle Ducks Head Office Technical Team in 2015 as a co-tutor, assisting on the Puddle Ducks Baby & Pre-school course. Since then she has qualified as a Submersion Tutor and a Programme Assessor.

Prior to working for Puddle Ducks, Rebecca worked in the advertising industry, after having her first baby in 2012, she realised her work life balance was not what she wanted and revisited her love of swimming as a new career path.  As a child and teenager Rebecca had represented her club and school. She also competed in both pool and open water lifesaving competitions.

Rebecca loves teaching Baby & Pre-school swimming as it never feels like work, 'Teaching a life skill, while watching parents bond with their children, be it at four months or four years, is a privilege'.

Heather Whitaker

Heather began her Puddle Ducks life as a Poolside Assistant and very quickly realising that she wanted more, she started training to become a teacher. After a couple of years in the teaching role, Heather was promoted to Senior Teacher, and now holds the title of Head of Teaching within the Lincolnshire franchise. Heather joined the Technical Team in December 2017 after being appointed to the role of Programme Assessor for the East Midlands area. She particularly enjoys the in-water teaching, loving each of the programmes within Baby & Pre-school and Swim Academy for different reasons. Heather says "I can't think of a better reason to get up every morning than to see my customers and watch them progress in to beautiful swimmers". In her spare time she enjoys swimming and running, and confesses to having a secret Lego habit!