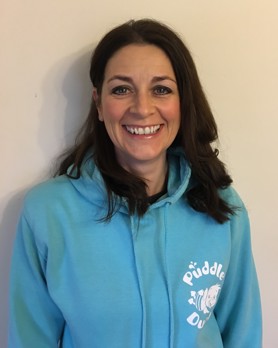 Rebecca teaches for Puddle Ducks Nottinghamshire & North Leicestershire, and has risen through the ranks to become Head of Teaching for the franchise. Over the next few weeks, we're going to be sharing with you a week in the life of Rebecca, focusing on one day per week, learning about what she does on a day to day basis and how she spends her down time. But first, we'll hear a little bit about her:
Whilst bringing my first child to Puddle Ducks lessons his teacher Alison told me I'd make a great teacher - I thought she was crackers for suggesting such a thing!! But it worked, Alison saw something in me that I didn't, she'd planted that seed in my head and I started thinking "Yes I would like to be a Puddle Ducks teacher." I love the water and I really enjoyed the lessons so it made perfect sense.
So after my second child was born I got in touch with Liz (the franchisee) and before I knew it I was on the Baby & Pre-school training course. The training was very intense but highly enjoyable.  By the time I did my training, as a customer I'd gone through the Floaties, Splashers, Kickers and Little Dippers programmes and I loved them all, so I had a very basic knowledge of what each programme involved.
I was made a senior teacher in 2016 and went on to become joint Head of Teaching in September 2017. So I now teach Baby & Pre-School, and Swim Academy classes, as well as being a Senior Teacher and Head of Teaching. I've just finished my Diploma and I'm training to be a Programme Assessor too.
I love my job and feel so lucky that I became a Puddle Ducks teacher - I honestly believe I have the best job in the world.
Day One – Friday 19th January
Off to teach at a new pool today, although I'm prepared (I read through the PSOP (Pool Safety Operating Procedures), printed out the quick checklist for the clipboard at poolside, got my registers and worked out how to deliver the lesson in the shape of the pool) I've still got that knotted feeling in my tummy. The anxiety of hoping that I get there in plenty of time, people show up to my lessons, and everyone has a good time. Even as an experienced teacher that feeling never goes away - a bit like when its time for an observation (when your teaching is reviewed by a more senior teacher) – we all know how that feels...I guess it shows we care!
Teaching with Puddle Ducks

We're always on the lookout for hard workers with a love of water and children, who care enough about giving babies and children a gift of complete freedom and pleasure in the water, and want to give them something that is both a skill for life and a life-saving skill.

Find out more about becoming a Puddle Ducks teacher.

Find out more.

Franchising with Puddle Ducks

Just like the children we teach, a Puddle Ducks' franchise is completely unique. It's an investment that allows you to do something you love and turn it into a profitable business.

All of our franchisees start off teaching in the water, so they can fully immerse themselves in the product and truly understand their customers.  But ultimately, the aim is for you to manage a team of teachers, taking ownership of your own territory.

We'll be there to help every step of the way. It's up to you how quickly you go from dipping your toes in to diving in at the deep end.

Find out more about franchising with Puddle Ducks.

Find out more.