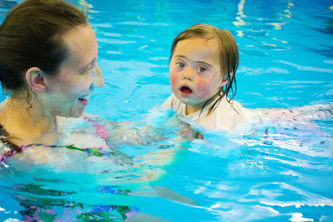 Three times a year we hold a Pyjama Week, where our swimmers attend lessons in their pyjamas and learn vital lifesaving and personal survival skills, and in our autumn Pyjama Week (10th - 16th October this year), our swimmers raise money for charity.
Wearing pyjamas during swimming lessons is about more than just having fun. Most accidents will happen while your child is fully clothed, so Pyjama Week will give a great indication of what this will feel like. It will help them realise that they will feel heavier but they will still be able to do the important life-saving manoeuvres like kicking to the surface and reaching for the side.
In the past, each local Puddle Ducks team chose a cause close to their hearts, and last time we held a Charity Pyjama Week (in 2019) our swimmers managed to raise almost £50,000, taking our total over seven years to a whopping £300,000.
This year we're doing things a bit differently, and have partnered with a charity nationally who do a lot of work that closely aligns with Puddle Ducks; Children's Hospital Pyjamas, who provide well-needed pyjamas for children having to have a stay in hospital. You can read more about the partnership here.
Many of our local teams are supporting Children's Hospital Pyjamas for Charity Pyjama Week, but some are supporting local charities, the details of which are below.
Puddle Ducks West Kent & East Sussex - WOLO Foundation - wolofoundation.org
Puddle Ducks Dorset - Elsie's Rose - www.justgiving.com/crowdfunding/dorsetpjweek
Puddle Ducks Norfolk & Suffolk - Ipswich Hospital Neonatal Unit - https://bit.ly/3EkiQg6 and The Shelley Centre for Therapeutic Riding - www.shelleyrda.com
Puddle Ducks Tees Valley - The Great North Air Ambulance Service - www.greatnorthairambulance.co.uk
If you're taking part, we'd love for you to send your photos to our Twitter, Facebook, or Instagram.