It seems like yesterday that we started teaching our baby swimming lessons at Woolley Grange Hotel near Bradford on Avon.  In fact, it was two years ago!
So, when I visited Woolley Grange to meet some of the parents and children (no longer babies!) it was a surprise to see just how much the children have grown and how wonderfully confident they are in the pool.
It's just lovely that a group of families who first brought their children to Puddle Ducks all aged around eight weeks, now two years later have all graduated to "Little Dippers".  This class recognises that the children are more independent of their parents in the water, and Diana, their swimming teacher, no longer gives instructions to the parents but directly to the children who understand and respond to Diana brilliantly.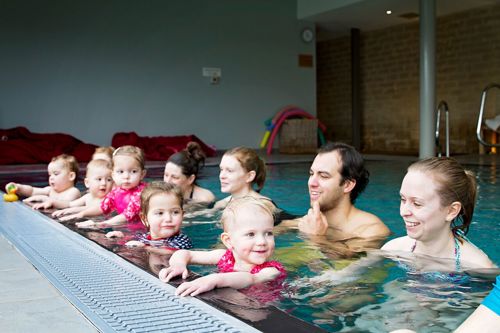 I watched the two-year olds swimming around on their woggles, kicking their legs and when Diana called "bubbles", they all responded by putting their faces in the water and blowing big, big bubbles.   Their jumps into the water were fabulous to watch, both from poolside and walking across the wobbly float and jumping in to their mum or dad.  The joy on their faces was fabulous to see, and the parents are obviously enjoying the sessions as much as their children!
Remembering their first day of swimming, Arlo was not sure about the water.  He wasn't the happiest that day, but mum, Emily, impressed me no end.  She was so relaxed and didn't push Arlo, and this plays a big part in why Arlo is so happy and confident in the water today.   Grandma Pauline comes to Arlo's swimming lesson every week and watches from poolside.  She is often the surrogate grandparent to other children who look to her for a cheer or a hooray when they do well!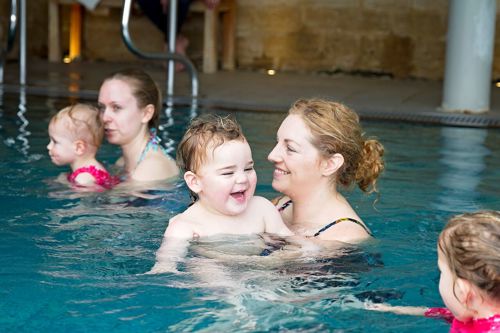 Olivia's mum Claire told me that a definite favourite for Olivia and all the children are the "Seal Dives", where the children hold on to their parents' shoulders and the parents swim under the water whilst the children hold on.  Isla also loves jumping off the big yellow float.  Isla's mum Emily, said yellow is her favourite colour!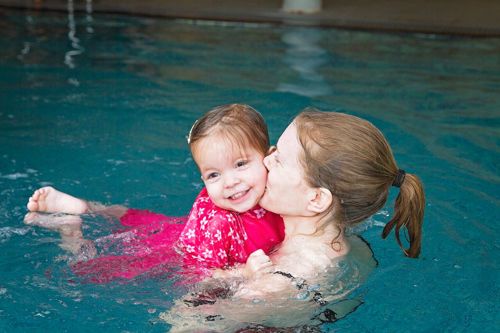 Samson is the daredevil of the group.  Mum, Jill, said Samson loves anything underwater.  She said, "Samson deliberately lets go of his woggles just so he can fall under the water.  I love that he now stretches his arms in an underwater front crawl action.  This is amazing for a two year old I think.  When we swim at the local pool I often have parents comment on how confident he is.  I love saying he swims with Puddle Ducks and has done since he was a tiny baby".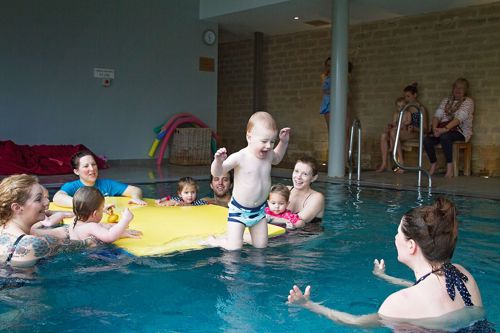 On that first day of swimming, two years ago, I met Larissa's dad, Angelo. He watched from poolside and then grabbed a coffee in the spa and did this every week at the start.  One day mum suggested he take Larissa for her Puddle Ducks swim and he reluctantly agreed.  He told me yesterday that he loved it from the start and since then has taken Larissa swimming every week and it's become their special day together.  Angelo said, "I was reluctant as it was all mums in the pool when we first started but it's good to see more dads are coming to lessons which is great."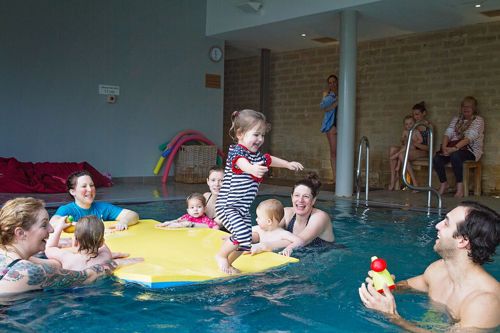 Diana teaches the children to swim each week and simply adores her job.  Arlo's mum told me that one day they were in the class singing the Puddle Ducks song and Diana stumbled on the words. Diana said, "Sorry everybody but the children are all so beautiful I forgot the words!" How funny as she must have sung that song hundreds of times over!
After class this week, we all went for tea and biscuits in the hotel to celebrate the children's graduation to Little Dippers.   It was so lovely to spend time with these lovely families, all of whom have committed to teaching their children to swim from a young age.   We hope they continue swimming with us for another two years and we'd love to see them join our Swim Academy when they go to school.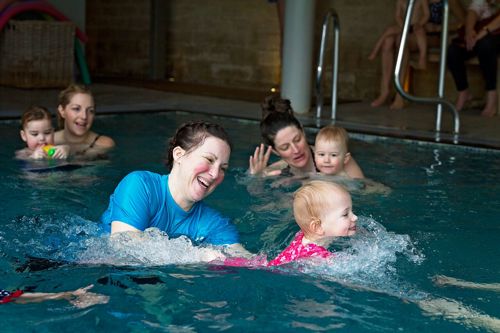 Puddle Ducks teaches baby and toddler swimming lessons at Woolley Grange Hotel on Tuesday mornings, and at 14 other venues around Bath, Wiltshire, Bristol, North Somerset, and South Gloucestershire.  Swim Academy (for 4-10 year olds) is launching this summer at Stonar School in Atworth.  Diana also offers a Baby's First Swim lesson as part of Woolley Grange's 'Baby's First Stay Away' package. 
Article written by Sarah Austin, owner of Puddle Ducks Bristol & Bath Ducks Bristol & Bath (February 2018)