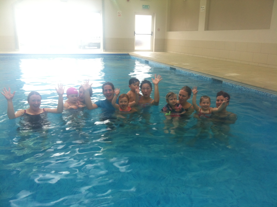 Thank you to all our lovely customers who have taken the time to vote for their teacher of the term - Autumn 2016.
We have received lots of lovely nominations which have been a pleasure to read. Pippa, from Daisy Birthing Weston-Super-Mare, had the hard job of picking a winner!
Pippa picked the fantastic Wendy Hussey to win teacher of the term! Here is the winning nomination from Katie And Edward E:
'I would like to nominate our teacher Wendy (Redhill House pool, Splashers, Thursday 10.30). She has been a fantastic teacher and supported Edward and I through a period of separation anxiety which was challenging at times. Wendy was always approachable and professional and worked with me adapting various elements of the session whilst still encouraging him towards the same goals as the rest of the class without causing him any distress.  She was flexible and worked with me to ensure the sessions remained enjoyable for Edward and I whilst still persevering to get Edward going to her for swims when he was ready. Edward has grown in confidence now and loves his sessions and regularly swims with Wendy both on the surface and under water. We now manage to get through a lesson without the bribe of a ball or duck and Edward waves bye bye to Wendy at the end of each lesson even looking back as if he wants to get back in the pool for more.
Thank you Wendy!'
Pippa said 'I choose Wendy as I feel her nomination really shows the wonderful relationships with the mummies and they babies. She follows babies cues helping them build they confident and enjoying they time with mummies in the pool.'  
Well done Wendy, well deserved.