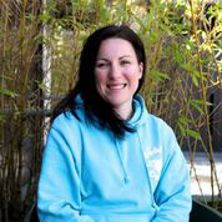 We were delighted to discover that the winner of the coveted "Teacher of the Term" award this summer was Diana Heathcote.
Diana was nominated by her customer Emma Matthews, mum to Evie (aged 2) and Toby (aged 4) who both swim at Larkrise School in Trowbridge. Emma said:
"We would like to nominate our wonderful swimming teacher, Diana Heathcote, for teacher of the term. She deserves to win this award so very much for the skills she has taught our two and four year old children, especially after a recent incident we experienced on holiday.
I was paddling in the sea with my two year old daughter and had a very frightening experience. We were paddling in very shallow water, only a couple of inches deep and we were on a harbour beach, so the water was very calm. I was not holding Evie's hand as it was so calm but she was within arms-reach. Suddenly an unexpected wave knocked my daughter off her feet and she fell forwards into the water. The wave pulled her under and out into deeper water in a split second. It happened so quickly, it was terrifying. I launched myself, fully clothed, into the deeper water to save her, but it did take me a few seconds to get to her. The absolutely amazing thing about this horrible experience is that I was able to witness my daughter trying to save herself. I could clearly see her kicking her legs and using her arms to try and pull herself to the surface. It was incredible to see. These essential life-saving skills that are now part of my daughters instincts, are all thanks to Diana's incredible teaching. We cannot thank her enough."
Diana's nomination was chosen by our independent judge, Jason Eaton, Manager at the club and spa at Cadbury House. Jason said. "As a pool operator and being a long standing venue for Puddle Ducks, as well as my own children learning to swim with them, I totally appreciate the importance of the role of the instructor being able to teach water confidence to children. It really showed with how young Evie managed to use the skills she's learnt through the fantastic teaching of Diana.
All Puddle Ducks instructors that have taught at Cadbury House have always been professional, courteous to our members and the fantastic results achieved from the children has given us the opportunity to grow the Swim School by increasing the class sizes and increasing the ages of the children's lessons from the start. This is a great way of retaining our members as well as encouraging new ones.
I have a fantastic relationship with Sarah and the team and they are always looked upon as employees of the club as they are always great ambassadors for us internally and externally."
Thank you Jason for making this difficult decision for us, thank you Emma for nominating your teacher Diana, and big congratulations to Diana for winning! Well deserved as Diana received seven nominations, the most of all our teachers. Well done Dee. 
We must also say a great big THANK YOU to all our wonderful customers who nominated their teacher this summer. Our teacher team received a massive 27 nominations in total.