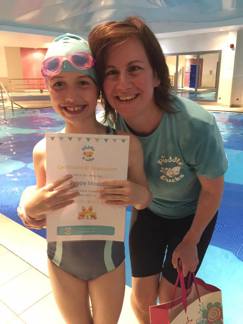 "There was a tear in my eye last night as we said farewell to the lovely Poppy who has been swimming with us from the very start of Puddle Ducks Bristol & Bath in 2008."
Sarah Austin, franchisee continued "I started teaching Poppy when she was just five months old, even before I launched Puddle Ducks, and it's been an absolute delight! It's amazing how the little toddler I remember, who was as nervous as can be of the water, is now swimming with absolute confidence. Watching her swim front and back crawl last night, and achieve her 200m award, made me feel total pride in what Polly, her teacher, and all our team strive to do, that is give our children confidence in water and swim with style and grace. Poppy has definitely achieved this and I'm proud as punch."
Poppy's teacher Polly said, "I'm going to really miss her and really hope she keeps on swimming. The group won't be the same without her but Poppy is too good now and very ready to move to swimming club."
Poppy is going to enjoy swimming with her dad on Sunday mornings at Hengrove before she decides if she'd like to join swimming club or learn synchronised swimming. Mum, Leanne, said, "I'd keep her swimming with Puddle Ducks until she was 35 if I could. Thankfully I still have her younger sister Hattie swimming with Puddle Ducks! Poppy will really miss you all."