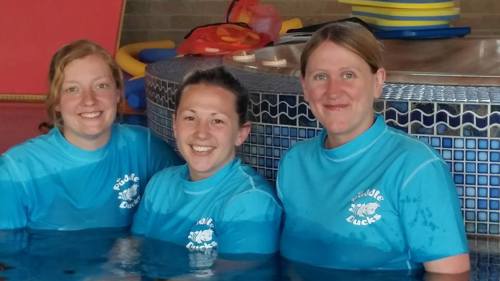 We are always on the lookout for new teachers but fortunately we didn't have far to look this summer as three of our Poolside Assistants jumped to the challenge of training to become a Puddle Ducks swimming teacher.

Beth Van Eker has worked with us since 2014 at Penny Porter pool in Henbury, North Bristol. Beth first got to know us when she started bringing her son Joshua to Little Dippers classes in 2013. Beth is a fully qualified Primary School Teacher and balances this with her weekend commitments at Puddle Ducks. Beth will now be teaching on Saturday mornings at Penny Porter where she knows all her customers, and is launching our new classes at Tockington Manor School in South Gloucestershire.
Jenna Garcia started bringing her daughter Amelia to Puddle Ducks back in 2012 when she was a tiny baby. Now Amelia is 4½ and two years ago little brother Enzo joined us too. Jenna joined the team earlier this year as Poolside Assistant at St Mary Redcliffe School on Sunday mornings. After attending the Puddle Ducks induction course Jenna was sold on becoming a Puddle Ducks teacher and we couldn't hold her back! She'll be teaching at DW Fitness on Saturday mornings and Parson Street School on Friday mornings.
Last but not least, Laura Philpott is our newest recruit who joined us in February as Poolside Assistant at "Our Pool" in Wrington Village. Laura is another Puddle Ducks mum and brings her two- year old son Louis to Kickers classes at theclub at Cadbury House in Congresbury. Laura will be teaching at theclub on Mondays; Penny Porter pool on Saturdays and "Our Pool" on Sundays.
All three of our Poolside Assistants passed the intensive teacher training programme with flying colours this summer and are now raring to go!
Welcome to the team Beth, Jenna and Laura.