What fantastic news, we are very excited to announce Laura Hoskins as our Spring 2022 Star Teacher. Laura teachers our babies and pre-school children at a number of our Bath and Wiltshire venues. She joined the team in 2019 and has been teaching swimming for over three years.
Congratulations to our Star Teacher Laura!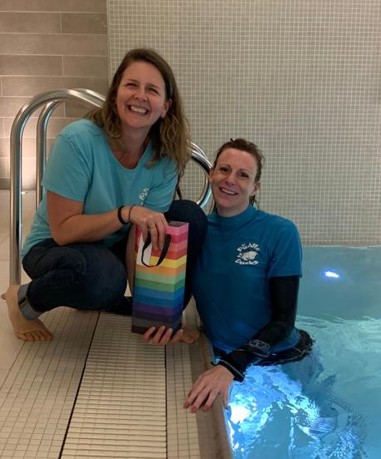 Laura was delighted to receive a surprise visit during her teaching session this week. Franchise Owner, Sarah Austin and Franchise Manager for Wiltshire and Bath, Diana Heathcote congratulated her on winning the award and all the customers in the pool were super happy for Laura's Star Teacher recognition.
Laura will now be entered into the national Spring 2022 Star Teacher Award, going head-to-head with all the other Puddle Ducks Star Teachers from across the UK.
Thank you to our winning nomination sent from Naomi who swims with her little Splasher Evan.
Naomi's nomination:
"  I have had the pleasure of attending a few different Puddle Ducks locations due to work and I can safely say Laura has been the most fun, energetic and caring teacher. Her ability to gauge the little ones attention (and hold it) is amazing. Her first aid is top notch, looking out for us adults and the little ones before, during AND after the class. Her time management skills are spot on with classes being different/fun and engaging. She is most welcoming, as a Nanny I sometimes find these things can be a bit 'mumsy' but Laura ensures everyone's involved! Including big brothers, Dads, new Mums and of course Nanny's! She is super smiley, takes time to explain things to newbies and knows each child's' developmental stages and to not push them too far to ensure they're safe and not scared.
Thanks Laura for being the best! x  "
Many thanks to our independent judge Michael Musgrave, Hotel Manager from our central Bath venue, Apex Hotel. Michael had the task of reading through all the anonymised nominations and commented on how lovely it was to read all the fantastic teacher feedback. He decided upon the winning nomination due to the mention of how inclusive the teacher was to all customers in the class, which he felt was especially important to that of a parent. Michael also loved the comment  that highlighted this teacher was always smiling, which he stated, "a smile at all times goes a very long way!"
A big thankyou to everyone that sent in a nomination and all our teachers will be delighted to read all your kind words and positive feedback.