We were delighted to discover that the winner of the coveted "Teacher of the Term" award this summer was Jen Blythe.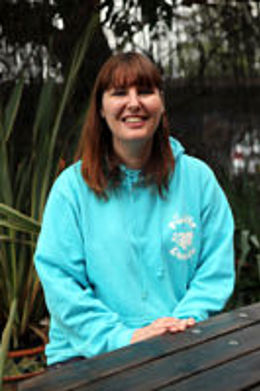 Jen was nominated by her customer Sarah Griffiths mum of Effie, aged 1 year 3 months who swim at The Grand in central Bristol. Sarah said:
"Jen has been teaching Effie for the last 10 months and doing a fantastic job.  She has always been really encouraging when there are new skills to learn, but never pushy if the babies don't feel up to it. Effie has gone through clingy phases, teething, and plenty of colds. But this never put us off, because Jen is so encouraging.

Jen also gives practical safety advice. When Effie suddenly slipped under in the bath, I knew that once I scooped her up if I gave her a second, she would spit out the water just like in class. This turned a potentially scary moment into one I knew how to handle".
Jen's nomination was chosen by our independent judge, Phil Sykes, Centre Manager at Bath Road Studios. Phil said "I have read through all the nominations very carefully – I liked all of the nominations but the one that struck me was for Jen who had provided practical water safety advice in addition to teaching the children to swim. As such I feel she should win 'Teacher of the Term'".
Thank you to Phil for making this difficult decision for us, thank you Sarah for nominating your teacher Jen, and big congratulations to Jen for winning! Well deserved as Jen received four nominations, the most of all our teachers. Well done Jen. 
We must also say a great big THANK YOU to all our wonderful customers who nominated their teacher this summer. Our teacher team received a massive 13 nominations in total.