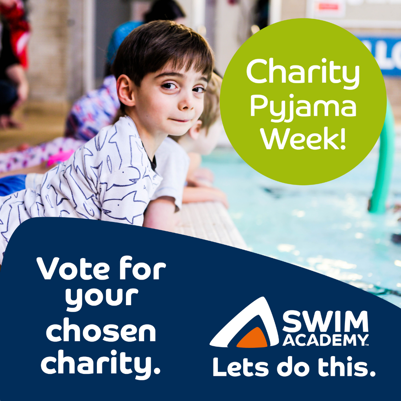 Our annual charity Pyjama Week will run from the 14th - 20th October, and we need your votes!
The charities on the shortlist below have been nominated by our customers, and whoever receives the most votes will benefit from the money raised. Find out about the nominees below, and scroll down to vote at the bottom of the page - voting closes at 10pm on Sunday 15th September.
-----------
Gympanzees
This charity's vision is that every disabled child and young person in the UK should have  access to play, friendship and exercise. Running pop ups for now, they are fundraising for the UK's first, fully inclusive leisure facilities, which will be in Bristol and  and cater for the play, exercise and social needs of the 58,000 children and young people with disabilities who live in the area.
----------
SANDS (Stillbirth and Neonatal Death Society)
For 40 years, SANDS has supported everyone affected by the death of a baby. They work to improve the care bereaved parents and families receive, to influence policymakers and to promote research to reduce the loss of babies' lives.
-----------
Children's Hospice South West
The charity provides hospice care for children with life-limiting conditions and their whole family across the South West, from three hospices. The care they offer is wide ranging; respite and short breaks, emergency care, palliative care and end of life care. 
-----------
CCS Adoption
CCS Adoption has been finding homes for children who need them for more than 115 years and is one of the largest voluntary adoption agencies in the South West.
It places more than 30 children with adopters each year. In 2018/19, it found new families for 47 children. The average age of these children was just under 3 years old.
-----------
Together for Short Lives
Together for Short Lives is the UK's leading charity for the 49,000 children living with life-limiting conditions, and their families. They ensure that no child or family
is ever left behind when it comes to getting vital care and support.
https://www.togetherforshortlives.org.uk/
-----------
VOTE HERE: