Congratulations to the fantastic Ella who has won Teacher of the Term Spring 2017.
Ella was chosen as Puddle Ducks Bristol & Bath Teacher of the Term Spring 2017 by Sarah Morris, Bursar at Tockington Manor School.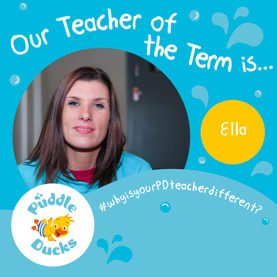 'Emily and I swim on a Monday at Redhill House and we think that Ella is an outstanding swimming teacher. She is always enthusiastic during lessons, is clear and consistent with her use of terminology (which means Emily knows exactly what she needs to be doing and when) and most importantly she knows ALL the children in the class – she always recognises when they have achieved something for the first time (and is excited for them, praising their achievement), she knows when to give them that little bit of extra encouragement because they can achieve the next step and she also knows when to step back because they are having an off day.
Emily and I love our Monday swimming lessons!!! Ella has had such a positive impact on Emily, she even has to play swimming in the bath now, with pink duck being Ella!!
Thank you Ella and Puddle Ducks
Many Thanks'
Chey, mum to Emily (2 years 9 months)
Sarah said;
'I have read through all the nominations very carefully – it was an extremely difficult task, as clearly all the teachers seem to share an enthusiasm for their role and make the whole experience enjoyable for the children. I do realise though that I can only choose one of them!
I have selected Ella, based on the fact that I get the sense that she exhibits all the hallmarks of a natural teacher – a consistent enthusiasm for what she does, confidence, and reassurance for both children and their parents. All of these strengths, plus the ability to remain and instil calm when necessary, plus her clear organisation, gives parents the trust that is necessary when looking after the most precious thing to them. These skills cannot be taught, and children are not easily fooled, so for them to clearly be having fun whilst learning an important life skill is a sure sign that Ella is a natural and indeed an asset to Puddle Ducks!'
More about Tockington Tots
Tockington Tots is a FREE session for toddlers aged 1+. It runs every Monday during term-time, 9:30am to 11:00am and provides the perfect opportunity to introduce toddlers to the Nursery setting.
The Nursery is located in its own building furnished with the very best equipment for early years learning. Set within the beautiful grounds of Tockington Manor School our Nursery children are able to enjoy free-play and welly walks in our forested areas, and 'learning through play' in our specially designed indoor and outdoor spaces. This stimulating and safe environment allows children to grow in confidence whilst exploring new boundaries and opportunities.