We are so pleased to announce the latest addition to our Swim Academy teacher team, wonderful Izzy!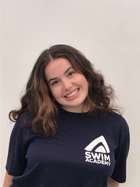 Izzy has been part of the Puddle Ducks family for a while as a Poolside Assistant, and was on the verge of qualifying as a teacher when the Covid pandemic hit last year. We're pleased to say she has absolutely smashed her teaching since lessons resumed in April, and is now all signed off ready for her own classes. She'll be part of the team at Everlast Fitness Bristol Imperial.
Congratulations Izzy, we are so proud of you!