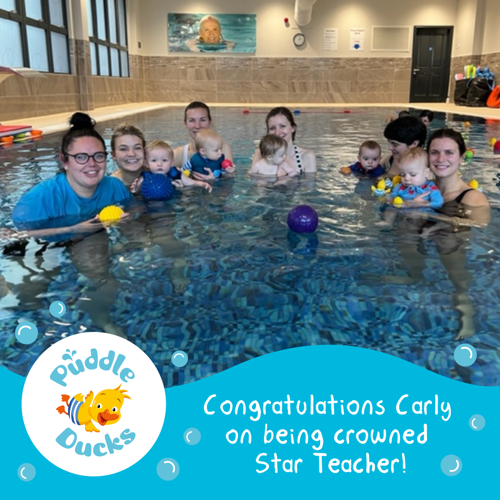 We absolutely love this time of term, when we ask for your nominations for your Star Teacher. We received lots this term, with some simply saying 'a brilliant and amazing teacher'! Others went int more detail of how their teacher had helped them through a tough learning situation, providing support and understanding.   
                                                                                                    Our esteemed judge this term was Mrs Saeda Ayche from our wonderful Wiltshire based pool at Ashwicke Hall.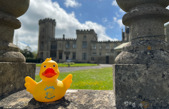 If you haven't experienced the toasty warm water at Ashwicke Hall yet, then why not try a courtesy class there on
e lesson, with both Swim Academy & baby & pre-school lessons available each week.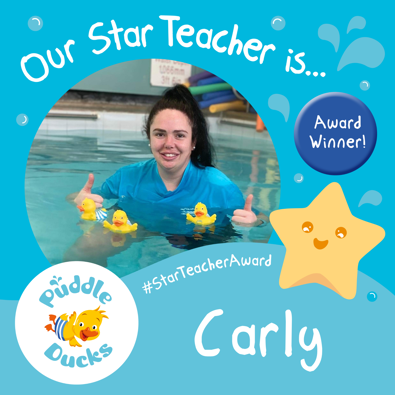 Carly is a huge asset to our team, teaching our babies & pre-schoolers all across Bristol and recently becoming a Senior Teacher in the team. We are very proud of the fantastic impact Carly has made on our Puddle Ducks customers.                                                                                                                
Below are some of Carly's fantastic nominations including the winning nomination which Mrs Ayche's chose because the teacher had managed to instill confidence into the parent and child at their first meeting!                                                                                                                                Thank you Jemma for your winning nomination.
"Carly is so lovely. She always manages to make our baby smile and has made swimming his favourite thing. As soon as he sees the pool his face lights up. She's so welcoming and makes you feel so relaxed and comfortable."
Anna - Penny Porter Mum of Marley 
"Carly is fun, knowledgeable, calm and attentive. She is fabulous at remembering everyone's names and really follows each child's development and needs."
Rosie - Penny Porter Mum of Zebediah
"Chloe really does look up to Carly, she is one of the best."
Rachael - CQ Mum of Chloe 
"Carly is amazing! As a mum I was really anxious about bringing my daughter to lessons as I had no idea what to expect and whether my little one would like them or I would know what to do. For the very first lesson Carly made us feel at ease and explained things so clearly so we could easily join in with everyone else who had been having the lessons much longer.
Carly explains everything so clearly and is just a ray of sunshine, being positive and enthusiastic with the babies.
My daughters favourite time of the week is swimming, thankyou Carly for making it so enjoyable and fun!"
Jemma - CQ Mum of Lorelie