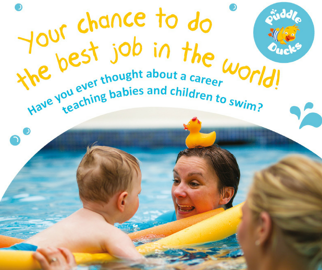 Puddle Ducks Dorset are seeking enthusiastic people to join our fantastic team of instructors teaching babies from birth to school age. A passion for water, swimming and working with children is a must-have.
No experience is necessary, more important is a positive can-do attitude, reliability, willingness to undergo significant training (some of which will be at your own expense and in your own time) and a flexible approach to working.
At least one day working at the weekend and your own transport is essential.
In return we offer comprehensive ongoing training and support, excellent rates of pay and an extremely rewarding career.
The role is term time only, approx 40 weeks per year and you must be able to commit to working your sessions every week.
Qualifications you will need to undertake for this role include:
- STA Baby & Pre-school certificate
- Puddle Ducks Baby & Pre-school 5 day training
- RLSS NRASTC or STA PR lifesaving training (including baby/child CPR)
- Own car essential
If you feel you have all the qualities we're looking for, we want to hear from you! Please contact us with as much detail about why you think you would be perfect for the role.
Job Location:
One teacher throughout Christchurch and New Forest
One teacher throughout Christchurch and Colehill
Click here for more information about our teachers and the journey to become a Puddle Ducks instructor!
Email Anna on [email protected] for more information.