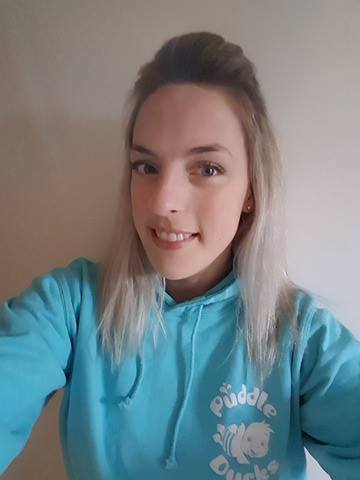 Tell us a little bit about yourself?
Hey, I'm Jo 😊 I live in bournemouth with my Hubby Jay, my 2 cheeky monkeys Mason (4), Oakley (2) and my dog Candy. I love the outdoors... beach days with my family and friends, dog walks, wake boarding and snowboarding!
What brought you to Puddle Ducks?
I started taking mason swimming with Puddle Ducks from 12 weeks old and Oakley also joined at the same age almost 2 yrs ago. I absolutely LOVE the classes, the energy, fun, smiles and of course the fact that they are learning such a key skill. It's always been my favourite activity with my boys!
Why did you decide to train as a Puddle Ducks teacher?
I have been a Poolside Assistant at Portfield School for about 6 months now and absolutely love it. Making friends with all the kiddies and parents and when the opportunity came up to train as a teacher, I jumped at the chance!
I wanted to be in on the action, watch the children progress and grow on their swimming journey and seeing all the smiley faces in the water is the most rewarding thing ever!  I have worked as a nanny for 12 years and after my 2 boys this seemed like the perfect way to get the balance with my boys at home and a career in something I love.
What do you have to do to train as a teacher and what happens next?
I attended 3 training courses- firstly a Lifesaving course which was lots of fun. I then went on a 3 day STA (Swimming Teachers Association) course in Bristol, which is the doorway into Baby & Pre-School swimming.
A week later I went away for the 5 day Puddle Ducks training course, which was AMAZING. The content and detail that goes into each lesson was unknown to me as a customer but it's so interesting to see it from a teachers point of view, our children really are getting the best introduction to swimming.
After all the learning, I've been implementing it into co-teaching at many classes each week, and oh my goodness.....I love it... at the end of the co teaching, I will be assessed by a super teacher on each category and then I'm ready to fly...or swim 💙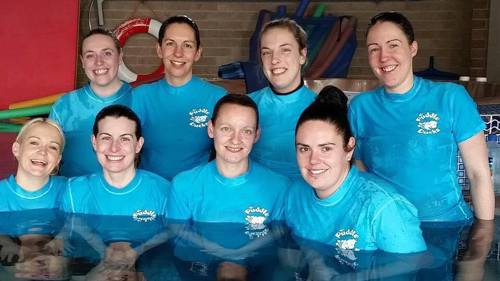 What are you most looking forward to?
I just can't wait to get my own classes up and running, get to know all the lovely kiddies and parents and watch them progress step by step through their swimming journeys.
This is hands down the best and most rewarding job EVER!!
Here's to lots of splashy smiley fun times ahead with you all!
Love Jo 😊 xx
-
Jo will be teaching her very own classes in the Summer Term 2017 at Hoburne Park, Portfield School and St Michaels Middle School!