A bit about me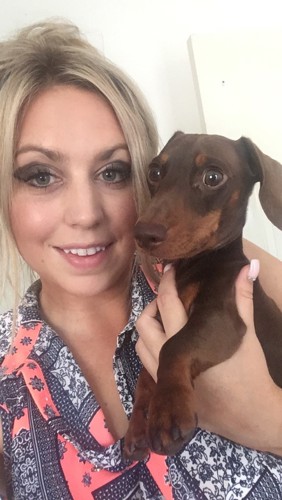 I joined Puddle Ducks after being a Primary Teacher for 10 years. I loved my previous job, but I was looking for a change. We got a Miniature Daschund, Lincoln, who needed looking after and I also run a dance school, so I was looking for something active where I could work with children and make a difference outside of the classroom!
I have always loved swimming and learnt to swim in Yorkshire. One of my fondest memories is swimming with my granddad and having races. When I moved back to Kent I started dancing, so swimming took a bit of a backseat, but I still used to go at the weekends.
Becoming a Puddle Ducks Baby & Pre-School Teacher
I saw this job advertised online and got excited and thought 'that is me'! I remember eagerly chatting to my husband, who told me to go for it. Soon after my interview, I completed my first Baby & Pre-School STA course, lifesaving course and then the Puddle Ducks course in Manchester. I also got to have a taster of what it was like in the water by having an in-water interview, shadowing the usual teacher and talking to parents/children I loved it! I was so excited to start. 
A week in the life of me
It's a real struggle to describe the 'week in the life of me' in one sentence, but in three words I would say; exciting, rewarding and tiring (lol!).
After my lessons I go home, greet Lincoln and let him out or get him food. I put my mat, glove and neoprene nappies in the wash and cold rinse all my uniform to get the chlorine out. I am very meticulous with my routine! My Poolside Assistants clean my equipment for me during lessons, but on a Sunday, I bring all my toys in for a deep clean! I'll then wash my hair, put the kettle on and log on to our online system to mark my register, criteria, check my pre-teaching assessment and reply to any emails. Finally, I'll have something to eat; swimming makes me hungry! If I'm teaching the next day I'll prepare my clipboard, update my registers, check my dry box and revise/ plan my lessons, thinking about the layout of the pool and if I have any new children joining the class!
Next, I'm looking forward to teaching 'aeroplanes' and 'whooshes' in Kickers which lead onto the rhyme 'Motorboat, motorboat'. I love all the singing/ rhythmic aspects of our lessons, I think it comes from my dance background!
My job takes a lot of hard work and dedication; it's such a wide age range that we teach so your knowledge and skills need to be excellent, as does your understanding of child development from 0-5 (which is a key part of teaching).
I have to say it is the best decision I have made!
Daisy swims at Abbey Court School, Kent Science Park, Westlands Primary School and Hilltop Primary School. Find out about how to start your Puddle Ducks' Journey or find out how you can become a Puddle Ducks East Kent Swimming Teacher!