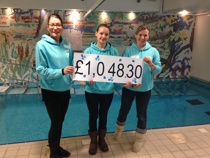 Last week we visited Chestnut Tree House and presented them with a cheque for £1048.30 and since then we have raised even more money bringing our latest total to £1113.30.  Chestnut Tree House were absolutely delighted and it wouldn't have been possible without the very generous contributions of our customers, and in particular the sponsorship money raised by our little swimmers.
Many thanks to the following children who all raised sponsorship for swimming in their pyjamas:
Jessica Harris
Maddison Grant
Rowan Spencer Black
Freddie Munroe
Tyler Catford
Sylvia Withington
Stanley Holden
Joseph Brittan
Sophia Dench
Gwen Anscombe
Ethan Ribbons
Reuben Harwood
Sophie Bates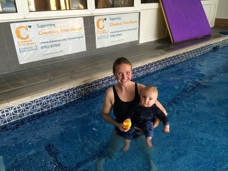 Joseph Brittan raised a tremendous £156.00 and he is the winner of our sponsorship competition and has earned himself 8 Free Lessons.  Congratulations Joseph!  Congratulations to you all and your certificates should be with you shortly.
It was lovely to see Chestnut Tree House last week and see the amazing work that they do.  It costs them well over £3.5m each year to provide all the care services that they do.  Families are never charged for their care and less than 7p in every pound is funded by the government so they rely heavily on the support of the people of Sussex.
They have a wonderful building that is more like a home than a hospice and much of their work takes place in the rest of the county supporting people in their own homes.  In particular it was great to hear how swimming proves to be so beneficial for so many of their children giving them freedom of movement that they just don't have on land.  For many it is the only opportunity for a cuddle with their loved ones without the restrictions of wheelchairs or other aids.
So thank you once again to all of our lovely customers. We were proud to present them with so much money on your behalf!