At Puddle Ducks we have a pyjama week every term so that all our swimmers gain a vital understanding of water safety, and know how it feels should they ever fall into the water fully dressed. Once a year we also raise money for charity. All the local Puddle Ducks franchises pick a local charity, and aim to raise funds through sponsorships, donations, and other fundraising including raffles. Pyjama week will be running from the 14th to 20th October and here in Hampshire and West Sussex we would love to help make this our biggest year ever.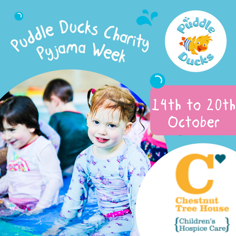 We are delighted to announce that we will once again be supporting Chestnut Tree House Hospice. They do incredible work, and provide a vital service for local families, and I'm sure you will all agree are incredibly worthy of being this year's recipient of our fundraising.
Chestnut Tree House is a children's charity providing hospice care services and community support for children and young people with progressive life-shortening conditions throughout East and West Sussex, Brighton and Hove and South East Hampshire.
There are potentially 1,000 families with life-limited children in Sussex. Chestnut Tree House offers support for the whole family including psychological and bereavement support, end of life and short break care and sibling support.
It currently costs well over £3.5m each year to provide all the care services provided by Chestnut Tree House. Families are never charged for their care and less than 7p in every pound is funded by the government, so they rely heavily on the generosity, help and support of the people of Sussex.
At Chestnut Tree House their goal is to provide the best quality of life for children, young people and their families, and to offer a total package of practical, social and spiritual support throughout each child's life, however short it may be.
This lovely story helps to illustrate the incredibly important work the staff at Chestnut Tree House do on a daily basis, and I'm sure you will all want to join us in digging deep to help others like Caleb and his family.
If you would like to support us in our fundraising efforts, this is what you can do!:
Please download a sponsorship form or collect sponsorship money directly to our JustGiving Site.  If you are using JustGiving please make sure the donor puts your child's name against the donation so we can allocate money for the competition! The child raising the most money over £50 will win 4 FREE Lessons!
Buy tickets poolside during PJ week or on https://www.justgiving.com/fundraising/puddle-ducks-hampshire-west-sussex for our Raffle which includes some great prizes including afternoon teas, days out and theatre visits. Please make sure you state "raffle" if you are purchasing tickets on JustGiving.
We will also be collecting donations poolside during the pyjama week.