Your Charity Pyjama Week is 10-16 October.
Can you believe our last Charity Pyjama Week was in 2019?! We are so excited to be holding this event again and for so many of you it might be your first time. This year, we have a new national charity partner, a wonderful organisation called Children's Hospital Pyjamas. Read all about them and how you can support them here.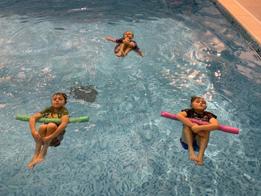 How can you support our wonderful charity partner?
There are a number of ways to support the charity but the best way is to buy a pair of pyjamas to donate to their annual appeal (they can only accept brand new pyjamas).
You can either bring them to your lesson and give them to your teacher or poolside assistant, or you can purchase them online and have them sent directly to your local Area Co-ordinator.
Alternatively, you can give a monetary donation and there are a number of ways:
At your lessons - there will be a donations bucket at every lesson during Charity Pyjama Week
Just Giving - we have set up a Just Giving page here for our franchise and when Pyjama Week is over all donations will go straight to Children's Hospital Pyjamas - this page will be open until (insert date)
Sponsorship - we'd love your little one to be sponsored for completing a personal survival lesson plan in their pyjamas. You can download a Swim Academy sponsorship form or a Baby Pre-School Sponsorship form here if you want to get started!
The child who raises the most money nationally will win a prize from Puddle Ducks Head Office and the child who raises the most money (over£75) in Hampshire and West Sussex will win 4 FREE lessons!

We can't wait for the fun begin - swimming in our jimmy-jammies - BRILLIANT!
Thank you so much for your support.