We are always delighted to receive feedback from customers, and hear about our Puddle Ducks journeys, and this testimonial we received from four year old Daisy's father just blew us away - it really encapsulates what Puddle Ducks lessons are all about, and reminds us why we do what we do! 
"We were looking to for swimming lessons for Daisy at an early age as we believed that it an essential life skill. This is especially so as we live on the coast. Daisy went to her first Puddle Ducks session at 6 months where we were in the water with her and she learned to float and breathe. As we were in the water supporting her, it was building on the trust that she had in us and that in turn gave her confidence in the water.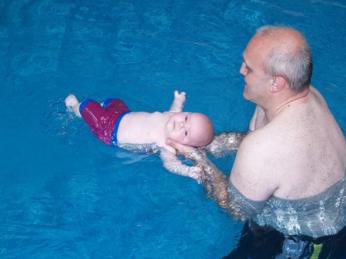 Over the weeks, the trepidation in the water vanished and through fun she learned the basics as her stamina, buoyancy control and skills grew. The periods of time she was out of our hands and in the water working herself also grew. 
As she moved through the classes, we saw how she was forming the techniques of swimming both on the surface and amazingly, under water! She learned to get into the water safely,  about discipline around water how to use woggles, and a number of basic life saving skills that I had not looked at until I was into my teenage years. She then achieved her 5 metre badge.
Now Daisy has started in Swim Academy and we are no longer in the pool with her. It was a big moment and I think that in the end it was us that had greater trepidation about this than she did. We sit at the side and watch how her skills are being developed. She has started to learn proper strokes, including butterfly (that I still can not do!) backstroke and breast stroke. She dives for items on the bottom of the pool and has learned to turn and roll in the water. She has been shown to use item to assist people in trouble in the water and she can float while conserving energy.
We took her on holiday and during the week she was seldom out of the water. Each day she swam further unaided, she dived and spent longer under water and she was truly comfortable with it and so were we, even if I did not get sunbed time!
So that is Daisy but, it could not happen without the instructors. From the first day, it has been about having fun. The activities around the learning points and the way they are delivered have been the key. Every one of the instructors that Daisy has had have come across as living and breathing Puddle Ducks. They understand and are patient with the quirks of the children and spend time individually when needed. They allow for the different learning rates and while time may be spent on an individual, they always have an activity going for the rest so you are never standing around doing nothing.
We believe that Daisy's journey has been phenomenal she is now approaching five years old. and understands and respects the dangers that water can pose whilst having the confidence to enjoy it safely. She can swim and climb out, she understands submersion and what it means for her breathing. And now she is here, we look forward to her building on these and progressing to the next stage of the journey.
As a an astronaut once said 'What a ride'! "